The Power of a Perfect Maxi Dress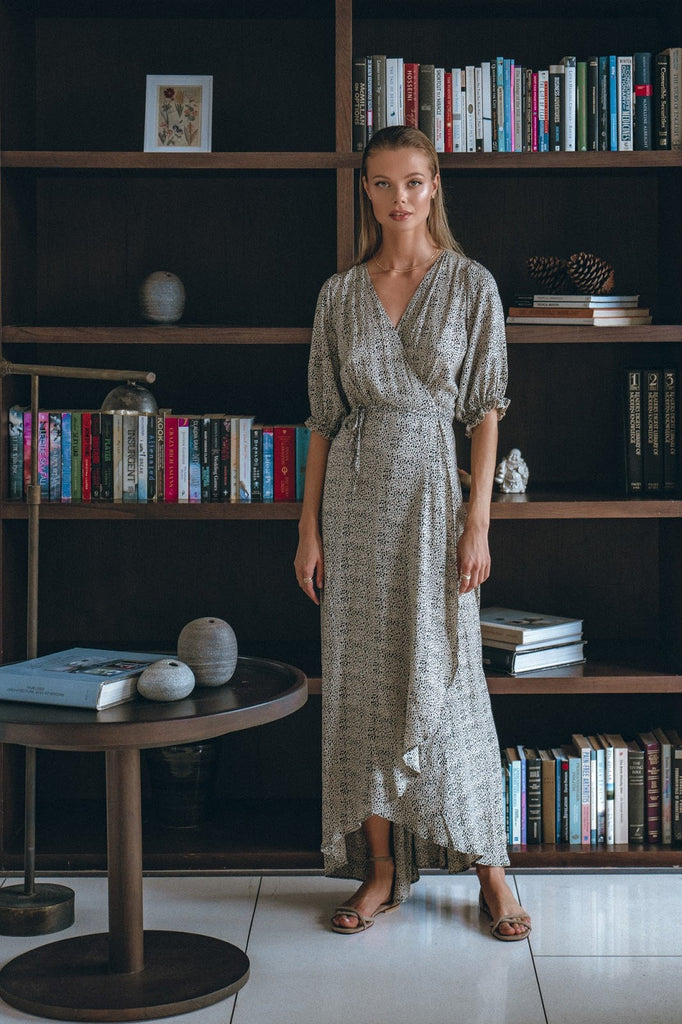 Every dress can make or break your visions and desires. Choose the one that inspires.
Maxi dresses are an essential piece in every woman's wardrobe. It is a style that highlights a feminine silhouette and exudes effortless elegance. In the late 1960s, respected haute couture designer Oscar De la Renta featured it in his collection. His vision was to create a clothing item that graces the ankles of fashionable people around the globe to represent elegance. 
Nowadays, the maxi dress is a mainstay in evening galas, spring weddings, and formal functions. We even wear them as the chic-er counterpart to our pajamas when we feel like dressing up while lounging around the house. It's a beautiful piece that ultimately became a symbol of femininity, elegance, and grace. 
What does it mean to us women? 
Featured: Romantic Floral Maxi Dress
Perfect for: Outdoor weddings, gallery visits, tropical holidays  
We don't want to sacrifice style while looking for the ideal ensemble. We have learned from mainly staying indoors that it is not about what other people think of, but it's what we feel matters most. 
What comes to your mind when choosing a dress for an occasion? Do you feel good? Are you inspired? Does it tell a story that you want to communicate in front of everyone? Does your dress create the statement that you want to present? 
Calming Silhouettes 
Featured: Elegant Maxi Dress in Black and Olive
A maxi dress complements the beautiful lines of the body. It's an excellent choice for romantic evenings, black-tie affairs, and family celebrations. It creates an atmosphere of calmness and rest, as you make way to the busiest day. 
Featured: Elegant Maxi Dress in Cream
Our Elegant Maxi Dress is inspired by these feelings. It's crafted from viscose fabric to make the piece lightweight and to evoke a luxurious feel.  This material is breathable, soft, and comfortable to wear.  
Perfect for: Brunch with the ladies, family time at home, virtual work meetings 
Subtle Romance
Featured: Parisian Floral Dress
The Parisian Floral Dress reminds one of spring, fresh flowers, and new beginnings. It never underestimates how beautiful the feminine body is. This dress highlights the feminine shape via its low V neckline and smocked waist. It expresses self-love without overly showing it. 
Perfect for: Intimate spring weddings, garden soirees, romantic dates
Impeccable Elegance
Featured: Elegant Maxi Dress in Cream; Striped Midi Dress
What resonates with elegance? It is the quality that exudes style and grace at the same time. The Elegant Maxi Dress aims for effortless elegance and can be worn alone or with accessories, such as minimalist chains or a straw hat for a tropical getaway. The hemline flows naturally and the dress comes in three lovely colors - black, cream, and olive. It's definitely a piece that will transcend time and trends. Pair it with simple lace-up flats, put your hair up in a bun, and you're good to go.
Perfect for: Dressy evenings, after-work virtual socials, romantic dinner dates 
Delicately Fierce
Featured: Arielle Maxi Dress
Every woman is undeniably soft but at the core has the fierce spirit that no one can distort. We have the power to put into perfection everything we set our hearts and minds into. We may be delicate but we are strong. We can unfold our full potential in the workplace, in our family, and in the community. Our clothing should also express this, like the women leaders we look up to. They choose pieces that voice out what they believe in. 
Arielle Maxi Dress puts this into a statement. This piece offers a subtle cheetah print in a classic wrap dress with modest puffed sleeves. 
Perfect for: City sightseeing, museum visits, shopping at a local market
Boho Dreams 
Featured: Vintage Floral Peasant Dress
Floral pieces will always have a spot in our closets, especially for springtime. An all-time favorite, the peasant dress is being recreated in a contemporary silhouette with slightly ballooned sleeves and a low neckline. 
The Vintage Floral Peasant Dress for sure will be a favorite for music festivals and gallery visits. It offers a relaxed shape that lends grace and movement, ideal for long days of spring and summer. Perfect the look with espadrilles, a headscarf, and oval sunglasses, and you've got yourself a killer summer outfit. 
Perfect for: Music festivals, weekend BBQ with the family, watching theatrical shows
Victorious Vibe
Featured: Striped Midi Dress
Perfect for: Zoom meetings, virtual ladies' night, casual brunch
The clothes we wear affect our mood and exude confidence. For instance, pajama sets and loose loungewear clothing send a signal to our brain that it's time to sleep (so better not be in one during your camera-off Zoom meetings if you want to stay alert and awake the whole time). If we put on clothes that we normally wear for work, it sends a signal to our brain that it's time to get productive. 
We have a choice to put on a piece that radiates a victorious vibe. When we look great, we feel great.
Dressing up as a form of self-care 
The pieces like these can empower the visions, the goals, and the mood that we aspire. Strut that victory vibe with this piece to complete your look and exhibit your winning Aura.