Fashion Meets Function: the Stylish and Practical Items You Need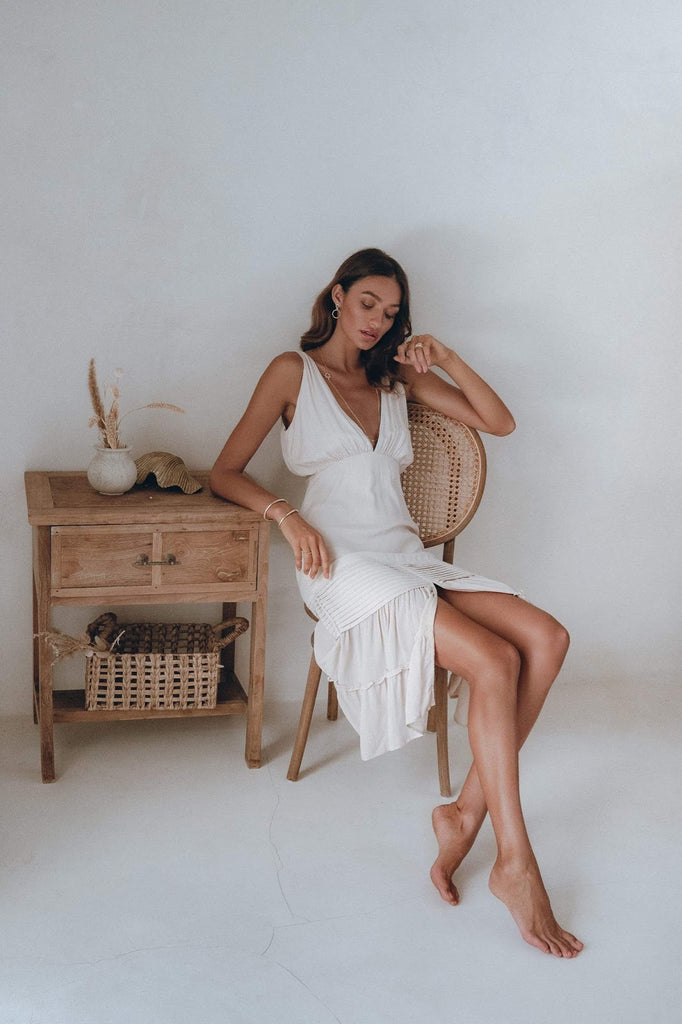 Featured: Lauren Midi Dress
Social media drives our desire for instant gratification. Influencers on TikTok and Instagram persuade us to buy all sorts of stuff that we get rid of months down the road. In a trend-filled world, we should remind ourselves that function and needs forever outweigh wants. When it comes to fashion, quality trumps quality. Ultimately, incorporating timeless pieces -- white shirts, form-fitting trousers, and comfortable loafers -- is vital if you want to build a functional yet fashionable wardrobe.
Are you ready to be your most fashionable self? Read this article and find out what makes a functional wardrobe!
The Perennial White Tee
Featured: Relaxed Crop Shirt
The white shirt is an item that immediately comes to mind when we think of timeless pieces. One of the most functional wardrobe staples, it looks beautiful on anyone and is wearable any time of year. Styling options are endless, too. You can layer it underneath a maxi dress or use it as a beach cover-up. 
Featured: Savannah Top and Cannes Shirt
The Relaxed Crop Shirt and Savannah Top are two must-haves for women who gravitate towards slouchier silhouettes. Whether you live in the tropics or spend half the year in a country with temperate climates, this is a piece that will be on heavy rotation no matter your style.
On the other end of the spectrum is the Cannes Shirt. Albeit more formal than the other two tops, we love how its sheerness can bring an element of fun to any look. You can opt to style it with a pair of trousers and heels for smart-casual events or loose trousers and sandals for a fun beach weekend getaway.
THE Black Dress
Featured: Willow Mini Dress and Iris Floral Wrap Dress 
If you were stuck on a desert island and could only bring one clothing item, the little black dress (LBD) is the first thing that automatically comes to mind. The epitome of timeless, functional, and sophistication, this wardrobe staple is suitable for any occasion - from weddings to weekend brunches - and looks flattering on any woman, no matter her height or shape. Versatile, you can pair this with heels or a pair of white sneakers and still look polished and put-together.
As Karl Lagerfeld says, "one is never overdressed or under-dressed in a little black dress."
Featured: Lauren Midi Dress and Jasmine Midi Dress
Uncomplicated, unassuming, and minimal are three qualities we love most about black dresses. Whether figure-hugging or loose and flowy, it's an item that makes a woman feel most beautiful and elegant.
If you find yourself gravitating towards unstructured and flowy dresses, the Willow Mini Dress and Iris Floral Wrap Dress are for you. Princess-like meets modern chic, style this with a pair of shin-length boots or platform sneakers for a bit of an edge.
The epitome of bold and sexy is the Lauren Midi Dress. It is a flapper girl meets sophisticate, a crowd-pleaser that features a deep v-neck and intricate detailing. The more versatile option out of the three is this laidback Jasmine Midi Dress. A mix of casual and boho, use this as a focal point for any eclectic or dainty accessories. 
The Little White Dress 
Featured: Linen Midi Dress
One's location is a factor that comes into play when dressing up and white dresses come in clutch when wearing black isn't an option. Fresh and carefree, it's a great foundational piece to start with and compliments any color -- be it black or crimson red. In addition to that, you can opt to pair with all kinds of shoes, from sneakers to gladiator sandals. 
Featured: Paolita Dress and Classic Tiered Maxi Dress
Who says white is strictly for Labor Day? Contrary to popular belief, white dresses are a seasonal must-have. It is the fresher version of the ever-classic black dress. There are various styles to choose from -- be it a mini linen dress or one made of silk. Easy-going, think of it as the foundation staple for any look.
Are you on the hunt for summertime-appropriate dresses? If the answer is yes, choose one out of the following: the Linen Midi Dress, Paolita Dress, and Classic Tiered Maxi Dress. These look striking against a beautiful golden glow and are perfect whether you are going out during the day or at night. The ultimate transitional pieces, style them with a comfy pair of boat shoes or those killer pair of heels you hardly wear.
Jumpsuits for Effortless Elegance
Featured: Linen Jumpsuit in White and Black 
Also known as jumpsuits, rompers are essential in every wardrobe. Functional, they are perfect when you are rushing, do not know what to wear, and come with pockets. It's every woman's dream. Dressy meets casual, pair this wardrobe staple with sandals or loafers if you prefer a laid-back look or heels if polished and put-together is what you are after.
Featured: Bella Romper in Nude and White
The wonderful thing about rompers is they come in various styles, from short to low rise. Whether you are tall or on the petite side, you won't have trouble finding the right one.
Ladies on the more statuesque side may want to go for the Linen Jumpsuit. Stylish, functional, and comfortable, it's the perfect transitional piece that can carry a daytime look into the evening. 
As stunning and comfortable is the Bella Romper. Oversized rompers are ideal for women who prefer boxy fits over cinched waists. However, we recommend getting both styles so you can get creative when styling them.
High-Waisted Pants for a Daily Chic Look
Featured: Milan Top and Monaco Pants
If there's a specific pair that looks fantastic no matter your height and body shape, it's high-waisted trousers. Visually flattering, high-waisted trousers give off a slimming effect without making the waist appear too cinched, and most importantly, don't slide off. In addition to that, they are available in an array of fabrics -- from linen to stretch denim -- and provide extra coverage. 
Featured: Roma Top, Monaco Pants in Black and Tuscan, Milan Top
A customer favorite is the Milan Top. Classy and timeless, it elegantly accentuates a woman's upper body and is versatile enough to be worn during the day or at night. Equally stunning is the Roma Top. On the more casual side, it features a flattering square neckline and is comfortable enough to move around in.
Both tops are available in four colors, which makes mixing and matching outfits fun and creative. 
Feminine Maxi Dresses
Featured: Blush Floral Wrap Dress 
Think of a maxi dress as the ideal one-and-done lazy day outfit. It exudes comfort, provides the perfect amount of coverage, and looks breathtaking on all body types. The ultimate transitional piece,  you can go from wearing it casually during the day then incorporate a bolder item to jazz it up at night. 
Featured: Luna Skirt Set and Arielle Maxi Dress 
The Blush Floral Wrap Dress, Luna Skirt Set and Arielle Maxi Dess  is an elegant and contemporary take on the classic maxi dress. It's perfect for all sorts of occasions -- from your colleague's baby shower to a beachside dinner date. Simple and elegant, it is sure to come in handy and doesn't disappoint.
On the fun and bolder side is the delicate Chic Floral Maxi Dress. This ultimate statement piece beautifully hugs the body and gives off the most beautiful silhouette. If casual is what you're after, we recommend investing in the Apricot Shirt Dress. Practical, it's ideal for your next holiday, or if you want something that makes you feel instantly put together.
Unleash Your Inner Fashionista 
The key to building a fashionable and functional wardrobe is finding good-quality pieces that can be worn numerous ways and are perfect for different occasions. Purge your closet, keep the basics and build something from there!