How to Build Your Everyday Wardrobe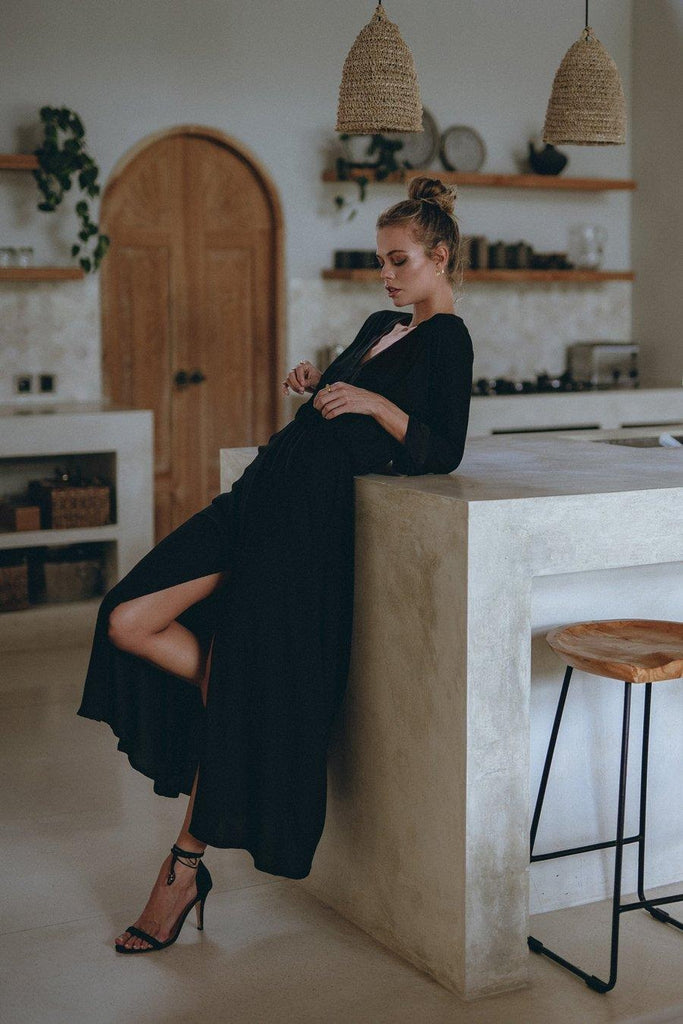 Featured: Elegant Maxi Dress
The everyday dressing should not be complicated or accost you with stress. You don't need to play with so many. Start with the basics and build your style from there. After all, solid wardrobe essentials are enduring and will stay forever. Streamlining your outfit can make your day-to-day dressing more manageable. They save you from the overwhelming guesswork in the morning and give you more time to get ready easier, quicker, and more efficiently.
Here are some useful tips to get you started:
Plan out your week ahead.

The key to being confident is being prepared by having a plan. If you already know your activities for the next 7 days, it will be so much easier to organize your closet and trim down the outfits you will wear.

Know your signature style.

You don't have to be an expert to know your signature style. 

Yes to basics and timeless pieces.

You'll always have something to wear if your wardrobe has multiple basic and timeless pieces that you can mix and match with more contemporary items you own.  

Add some colors here and there.

A splash of colors adds character to your ordinary wardrobe and can create a huge impact in improving your everyday mood. If you're a minimalist and would often veer away from color, you'll be surprised that subdued tones, such as olive and blush, can instantly liven up a look yet still keeping everything looking classy and streamlined.

Mix patterns and textures

. Inject different textures into your everyday outfit to achieve an interesting touch. Pair a solid-colored top with a textured leather bag for work affairs, or finish a minimalist jumpsuit with embellished kitten heels for a day-to-evening look. 
Breathe new life into your look by embracing some of these freshest pieces we handpicked to give your daily wardrobe a fashionable pick-me-up.
1. 
Dressy Casual on Easy Mondays
 Featured: Striped Midi Dress, Irish Floral Wrap Dress
We get it; sometimes, it's not always "Motivated Mondays" for all of us. Especially right off the bat from a relaxing weekend. Mondays need not always be stressful and rigid. Ease out to the first day of the week by opting to wear a dressy casual look.
Slip into the Striped Midi Dress or Irish Floral Wrap Dress to instantly achieve an effortlessly put-together look. The Striped Midi Dress in black and white features a flattering low V-neckline with satin panels, ¾ sleeves for that more formal wear, and a front slit that renders graceful movement. On the other hand, the Irish Floral Wrap Dress will give you a toned-down feminine look while still keeping that chic and dainty guise. Both these dresses fit well for all of your Monday activities.
2. 
Business as usual on a working Tuesday
Bring the suits game bar higher with these sleek matching separates that can surely endure you for a whole day of camera-on Zoom business meetings and corporate presentations. The combination of Cannes Shirt and Monaco Pants in Black can ultimately give you that needed confidence to push your office agenda for the day. At the same time, the Milan Top and Monaco Pants in Sage give off that refreshing vibe to get you through a busy day.
3. 
Casual Wednesdays
Take a fashion break during the midweek, because why not? Don casual pieces to make you feel more relaxed and comfortable but not sacrificing the style factor.
Our Amber Top is crafted from light fabric completed with lining that will keep it airy yet modest. It features lace-trimmed details on the bust, short wide square sleeves, and shell buttons on the back. The elegant Roma Top and Shorts in Oatmeal are made of  100% linen and can definitely be a beautiful addition to your sustainable collection.
4. Errand Day Thursday
Featured: Blush Floral Top, Irish Floral Top
Printed loose tops and soft fabric trousers are perfect pairings for a busy errand day. Try our Blush Floral Top that denotes a spring-in-full-bloom charm in gorgeous blush. Pair it with a pair of relaxed linen shorts for a chic summer garb.  Put on our lovely Irish Floral Top that looks elegant with comfortable yet tailored trousers. Both boast a wide V-neckline that shows a bit of skin, an empire waist shape that looks flattering for any body shape, and an overall relaxed flow that follows your every movement. 
5. 
Romantic Fridays
Featured: Elegant Maxi Dress, Florence Midi Dress
Set the overall feminine look at the center stage with these alluring maxi and midi dresses just about right for your first dates or special anniversary nights. 
Enjoy a candle-lit dinner under a sky full of stars with the Elegant Maxi Dress or the Florence Midi Dress. These dresses both look exquisite and fancy in figure-hugging flowy fabrics. Put on your sexy strappy heels, your hair up in a bun, delicate pieces of jewelry, and a purse and ace that overall look of sophistication and elegance.
6. 
Coffee Outings on Saturdays
Featured: Bella Romper, Willow Mini Dress
Try on our Bella Romper that elicits a utilitarian chic look on a sartorial level. It's both functional and stylish with its thin straps, breezy and high-quality linen fabric, and relaxed yet tailored fit. This head-turner also features functional cargo pockets and a waist belt to cinch your waist. Go for a more dainty look with our Willow Mini Dress that features an off-the-shoulder shape, perfect for showing that beautiful tan. It comes with exaggerated sleeves and a smocked chest area. Style them with gold accessories and flats, and you are all set to have fun with your friends.
7. 
Slow Brunch Sundays
Enjoy an alfresco Sunday luncheon with your family and significant other with the Romantic Floral Maxi Dress or Tamara Dress. This romantic-fit flare maxi dress depicts a delicate floral framboise pattern. The Tamara Dress is a fresh frock that deserves a place in your daily fashion hot picks. The mini length is the reinvention of the classic LWD, featuring a deep wrap style V-neckline and ¾ sleeves with trim details. 
Exude class, elegance, and sophistication every day sans effort with these stunning pieces. Start building your everyday wardrobe today. Shop for more options here.