It's All About Relaxed Tailoring This Summer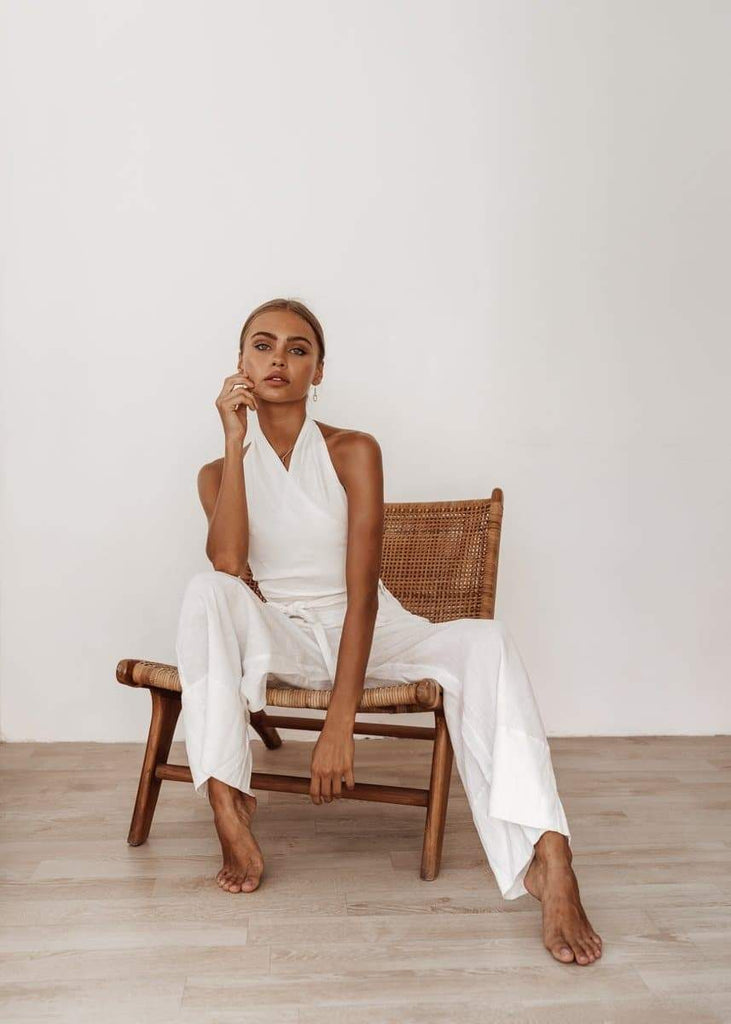 For minimalists and street style stars, laidback tailoring has always been a longstanding favorite. Given the continual casualization of fashion, this style that marries comfort and chicness offers a significant compromise beyond the binary of streetwear and couture, much to every fashion girl's delight. 
Sure, a power suit will never lose its appeal, but when made with a soft cut and lightweight fabrics, we can't think of a reason why you won't seal a million-dollar deal or turn heads in a serene paradise, whichever you're in the mood for. And since it's summertime, we're giving tailoring a seasonal upgrade to let everyone do a double-take on your fit from 9 to 5 and beyond.
Each of Aura's classic pieces is sustainably handmade and crafted to give a feminine twist to your ultimate tailored aesthetic. It's an ode to embracing a look of boldness and courage.
From the boardroom to the beach, shop our edit on breezy tailored pieces to complete your summer wardrobe below.
1. Bella Romper
Featured: Bella Romper
Play it cool with the hot weather by wearing a classic utility romper that gives off an instant statement in one sweep. Its thin straps and breathable linen fabric are the perfect antidotes to scorching summer days, tailored in a stylish way that doesn't veer away from function.
Heading back to socializing might take your time planning and filling up your calendars, so if you need an easy-to-wear, versatile piece, this is your best bet. Dress it up with elegant strappy heels or give it a casual spin with trainers; the world is your sartorial oyster. Of course, layering with gold jewelry is a must for a high-end feel.
2. Sicily Coat
Featured: Sicily Coat
Sunny cold weather is surprisingly tricky to dress for, and there's nothing quite like a summer jacket that's lighter than a puffer to keep you warm on cooler days. The timeless Sicily Coat is sure to get the job done, made with 100% linen to ward off a chill and make any outfit look more polished at the same time.
Bid adieu to your cookie-cutter blazer and embrace this sophisticated coat for your choice of summer layer. Suited to go anywhere, it fits perfectly with your favorite jumpsuits and dresses that you'll likely be going outside just to give a whirl.
Pair it with: 
Cannes Shirt in Black and Monaco Pants in Black
3. Milan Top
Featured: Milan Top 
Let those sunkissed shoulders glow by bringing back an 80s classic, the spotlight-stealing halter top. Thanks to its tie-front detailing and beautiful silhouette, the Milan Top is the perfect piece for a subtly sexy summer look without feeling overly revealing or too club-ready.
You'll have no problem styling this versatile piece as it looks perfect layered with a blazer for a fashion office ensemble or worn on its own for an after-work look with the girls. Pair it with black pants and printed heeled sandals to stand out in all the right ways.
Also available in 4 other colors 
4. Loose Linen House Pants
Featured: Loose Linen House Pants in White and Black
Setting aside leather pants for the summer isn't synonymous with ditching full-length bottoms altogether. Made with breezy material and loose silhouette, the Loose Linen House Pants is an answered prayer for women who are just not fans of leg-baring pieces. Its laidback fit works well with a comfy flat side sandal, your fool-proof weapons to a relaxed state of style without looking sloppy at all.
Not only are these pants appropriate in complementing chic tops, but it also easily transitions you from beachside coverups to evening cocktails and can take you to destinations whichever route you go, from steamy commutes to tropical travels.
5. Linen Midi Dress
Featured: Linen Midi Dress
Airy and light, the Linen Midi Dress makes for a great hero piece in every summer wardrobe. Its classic square neckline and side slits reign supreme in making scorching hot days bearable, helping you get through multiple occasions from outdoor brunch to office meetings. 
Thanks to the versatile polish of its length, it tends to match every agenda depending on your chosen footwear; opt for mule sandals for working days and flip-flops for a serious summertime asset. Go easy on your hairstyle and earrings to gravitate towards the summer in a graceful, effortless ensemble.
Comes in two other colors:
Linen Midi Dress in Oat and Olive
6. Sophia Shirt Dress
Featured: Sophia Shirt Dress in White and Terracotta
The key to a polished look while staying cool on the commute? Look no further than your classic Sophia Shirt Dress. No roundup of summer closet essentials is complete without the timeless and swoon-worthy LWD, a luxurious blend of linen and cotton fabrics to take you through professional meetings and mid-afternoon strolls. 
It's summer's unofficial uniform as far as we're concerned and looks crisp and classic with a signature basket bag and comfy sandals. And need we mention that you can wear it with practically everything? Try it with denim shorts or wide-leg bottoms or go pants-free and wear it open over a swimsuit. Voila, you've got yourself an It-girl staple look.
7. Linen Jumpsuit
Featured: Linen Jumpsuit
Hot days call for cool and comfortable, and for that reason, a jumpsuit begs to be reached out for. What could be a better epitome of carefree and preppy than a comfy onesie? The Linen Jumpsuit is an instant mood booster for summer's casual events, from all-day artistic pursuits to evening soirees. 
The effortless textile is universally flattering and keeps you dressed for every occasion. Pick up a pair of espadrilles, and you're on your way to a chic finish.
Comes in 3 other colors:
Linen Jumpsuit in White and Black
8. Cannes Shirt
Featured: Cannes Shirt in Black and White
Seasonal trends may come and go, but we all know that a button-down is a wardrobe staple favored by the most stylish of icons. The classic Cannes Shirt is a nod to one of fashion's great styling tools, elevated by stunning sleeve details and pearl shell buttons to take your summer looks up a notch.
Give it a bit of hot girl summer twist by tying it into a crop top or layering over a summer dress. With a multitude of variations to wear this unsung wardrobe hero, you'll never get bored styling it for your endless summer adventures.