The Art of Power Dressing in Trousers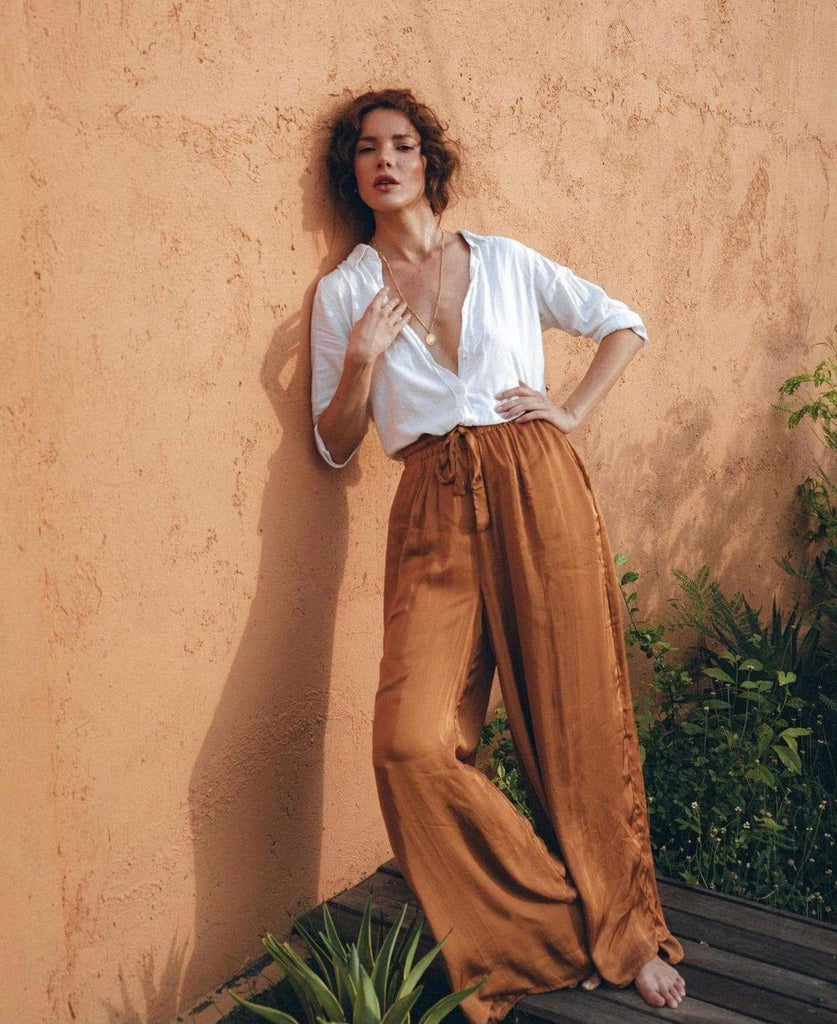 Featured: Satin Wide Leg Pants
Pants were once a piece of clothing that society was wired to believe to only fit the mold of masculinity so it only belonged to men. But as the world progressed, women became more empowered, assertive, and conscious of their rights which includes fashion liberation.  
Eventually, pants started making their way to luxe fashion houses that further paved the way for women to have their own fashion choices. Coco Chanel and Yves Saint Laurent were two of the first fashion houses to take it mainstream. 
These days, trousers have become staples in women's wardrobes. We  normally opt for these pairs for days when for busy days because it offers more ease for movement. While fashion fluidity has now become a thing, it still holds true that pants project a powerful statement. Wearing pants help women silently assert themselves better on certain occasions. It gives a boost of strength and confidence when needed while still being a fashionable female. And with the rise of more styles, cuts, and colors to choose from, the styling possibilities are endless. 
Here we show how to mix and match our selections for pants for different occasions. 
Business As Usual 
Featured: Satin Cropped Pants in Coral
Perfect for: Business meetings, work events, after-work drinks
Some days, you wake up feeling a little less "sparkly" and inspired so you just want to go through your day moving with more ease. That's where trousers enter the picture. There's no concern needed at all to get your hands to move quickly to cover yourself up while walking outside on a windy day or tripping in the office aisle and exposing yourself to everyone. All the struggles you go through wearing a pretty dress or skirt become irrelevant when you wear trousers. 
You can wear this Relaxed Crop Shirt in white in white paired with high-waisted pants like the Satin Cropped Pants in coral that has a structured boyfriend cut silhouette and a tapered waist and hemline. It gives off a stylish boss vibe even while being comfortably dressed down and relaxed. If you're feeling more pumped on a weekday morning, pair your Satin Cropped Pants with this gorgeous Cannes Shirt for a more ready-to-conquer look. 
Finish off your relaxed office look with a pair of pointed flats or  all-white platform sneakers. For the more amped-up office look, complete your outfit with a pair of pointed heels or an open-toe suede mid-heels. 
Casual Affairs
Featured: Monaco Pants in Black
Perfect for: Weekend strolls, shopping day, coffee dates with friends
Going out and about the whole day running errands and capping off the day with dinner with friends? You still want to make sure to look effortlessly put together despite the busy day ahead. The longer the day you have ahead, the better to get by knowing you're looking and feeling great from head to toe. Pants are a great choice especially with how flexible they can be with any top and footwear of choice. Go for a look that can keep you moving with much ease and comfort from daytime to sundown. 
Check out the Roma Top in black that has a loose fit and a flattering neckline then wear it with the elegant Monaco Pants in black that's made of rayon and has a very beautiful drape and soft texture. You may also go with the Amber Top in black to pair with your Monaco Pants for a more modest look. 
Complete your look with nice strappy flat sandals that are becoming a popular footwear trend this Spring/Summer season. 
Other top picks: 
Loose Linen House Pants in Black and White
Party Mood
Featured: Monaco Pants in Tuscan
Perfect for: Summer trips, dinner dates, casual events
Summer is the season for poolside parties or formal events by the beach where you spend a whole day socializing with familiar faces and sipping mimosas. You'd definitely want clothes that are light, airy, and comfortable for moving around.
Try the Monaco Pants in Tuscan that has stunning mother-of-pearl detailing. Finish it off with the beautiful and sexy Milan Top, also in Tuscan, that features a sexy wrap style halter neckline. The Oversized Bohemian Tunic in white would also make a great option for the Monaco Pants with the overall outfit looking stylish but not over-the-top.
Finish up your outfit with a pair of stylish slides or lace-up flats. Don't forget to accessorize too. Pick up your most favorite statement earrings and bangle set and you're all set!
Socials IRL
Featured: Satin Wide Leg Pant in Gold
Perfect for: Dressy socials, gallery openings, dinner at your fave restaurant
As the world slowly reopens, so do our social calendars. More and more people are thrilled to dress up again, eat out at restaurants, and see their friends and family members in person. One way to slowly transition from the lovely loungewear that we're so used to donning now is to wear loose silhouettes and comfortable styles. 
Universally flattering, the Satin Wide Leg Pant in gold is a perfect pick for when you wake up on the wrong side of the bed and you need an oomph factor to make you feel better about yourself. Pair it with the Relaxed Crop Shirt in white for a simple yet elegant loungewear look. 
Wondering how to complete the look? Sometimes, the key is just simplicity. Grab a pair of your favorite pearl earrings and keep your hair down or tied neatly into a ponytail. 
Pants Are A Woman's Best Friend
Featured: Monaco Pants in White and Black
There's no better time to rummage through your closet and give your trousers a bit more love. With so many styles, colors, patterns, and materials to choose from, there are a lot of ways that pants can up your fashion game and allow you to better unveil your true individuality without sacrificing comfort. All you have to do is think outside of the box and let your trousers do the walking.