Summer-to-Fall Transition Boho Linen Clothing to Try this September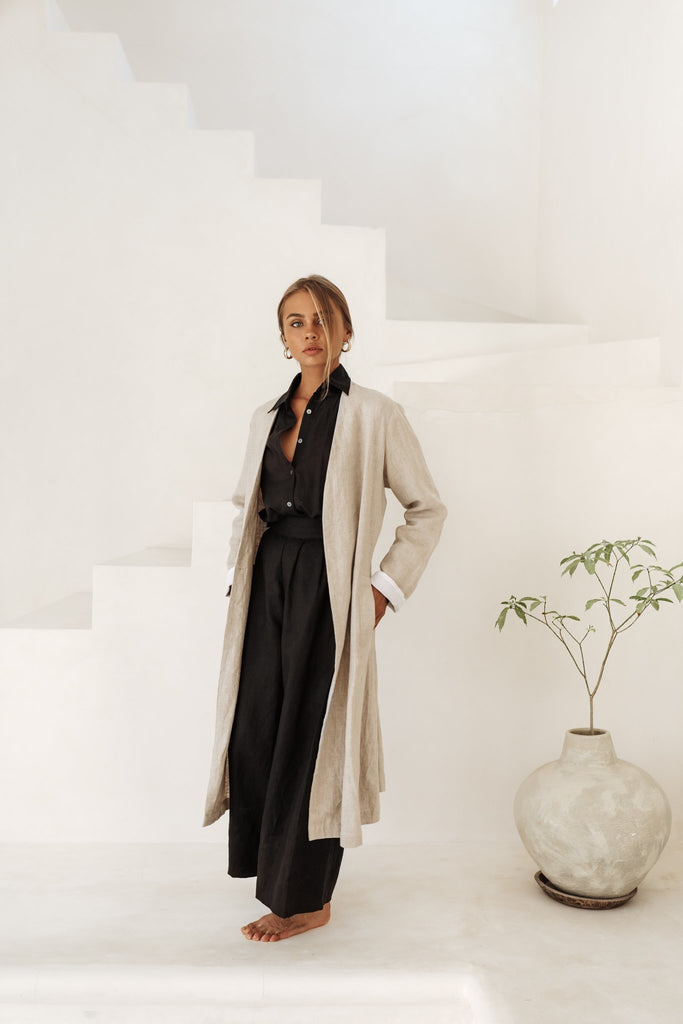 When it comes to dressing up for summer, we look forward to donning light-colored cropped shirts, oversized blouses, mini dresses, and breathable fabrics. But as we transition from sunny to overcast days, we can't help but come up with boho linen clothing styling ideas! Still has that summer vibe, but ready for cooler weather.
The sweet simplicity of linen makes it a fool-proof choice of fabric year-round, all while offering a chic look that's weather-appropriate, especially during the summer-to-fall transition. It's also lightweight, breathable, and there's no need to iron because linen naturally wrinkles, which adds even more character to your ensemble.
There's so much to love about linen, so check out our favorite autumnal picks:
Pearl Linen Top
Featured: Pearl Linen Top
The Pearl Linen Top does wonders at regulating your body temperature, keeping you warm or cool depending on the ambient temperature. So whether you're headed to the office, grabbing cocktails with the gals, or simply lounging at home, you can't go wrong with this timeless top. 
Made with cotton-and-linen blend fabric, it pairs beautifully with your favorite loose pants for that instant laid-back vibe. If you want to look more put together while still being comfortable, slip into a denim jacket and tie a stylish scarf around your neck to add a flattering pop of color to your ensemble.
Roma Top
Featured: Roma Top in Black and Sage
This elegant square-neck top is perfect for both breezy summer nights and brisk fall mornings. The Roma Top is handmade from 100% linen, with 100% cotton lining, keeping it comfortable. It's the perfect classic base piece to layer with your favorite coat or cardigan.
For a chic autumnal getup, throw on an oversized blazer, add some edge with ripped jeans or our bestselling Monaco Pants, and cap off the entire look with Chelsea boots.
Monaco Pants
Featured: Monaco Pants in Black and Sage
Fleece pullovers and trench coats all deserve their respective places in your autumn wardrobe, but so do these fabulous wide-legged pants. With mother-of-pearl button detailing and hidden elastic waistband, Monaco Pants will take your OOTD from cozy morning jaunts to relaxing night dates. So give this pair of pants a go this season by pairing it with an equally flowy top like the Roma Top or Gozo Bandeau and layering it with the Sicily Coat.
Sicily Coat
Featured: Sicily Coat
This closet staple deserves a spot in your summer-to-fall rotation, thanks to its sheer simplicity that will take your look to new heights. Our Sicily Coat is a statement-maker. Ideal for transition weather, this lightweight coat may just be the most versatile topper to hang in your closet. Plus, the neutral color makes this coat easy to match with almost everything.
There are a plethora of ways you can style this coat. You can wear it to tone down a summery bright shirt, for example. You can also simply opt for the quintessential fall outfit—a statement top (like our Cannes Shirt), warm leggings, and ankle boots. For your weekend fall getaways, throw on the Sicily Coat over the Gozo Bandeau for a flash of skin in your otherwise all-covered-up ensemble. 
Gozo Bandeau
Featured: Gozo Bandeau in Sage and Tuscan
If you're searching for a classic base that's a bit more special than a common bandeau, shop for the latest addition in our collection: Gozo Bandeau. Like all of our tops, our Gozo Bandeau is ethically handmade in Bali for your sustainable closet.
This chic top is available in various colors: Sage, Tuscan, Oatmeal, Off-white, and Black. Every shade looks lovely against all skin tones, but we highly suggest donning those in warmer tones (Sage and Tuscan) to reflect the colors of the transitional season.
Pair this cute bandeau with your favorite linen shorts and shrug on your best statement boyfriend blazer for warmth. Then, wear chunky footwear like lug-soled boots for a no-fail summer-to-fall transition getup.
Linen Midi Dress
Featured: Linen Midi Dress in Olive and Rusty Ginger
Linen dresses never go out of style no matter the season. Its loose-fit silhouette keeps you in a summer state of mind even as you bask in cold weather. And the best part? It's the perfect base dress now that blazer-wearing days are making a grand comeback!
No matter what vibe you're going for this season, the Linen Midi Dress will be a closet MVP this season. So put aside your sexy little black dress and try this sophisticated dress for an effortlessly elegant vibe. And for a maximalist appeal, cinch the waist with a wide belt, put on an oversized boyfriend blazer, and slip on slouchy knee-high boots.
Ophelia Midi Dress
Featured: Ophelia Midi Dress
A white dress may be the quintessential summer outfit, but it can still make an appearance in your fall fashion lineup. With proper layering and styling, the Ophelia Midi Dress is all you need to make a statement.
A feminine, flouncier take on the classic white midi dress, this summer staple begs to be styled with all of your fall accessories, like a knit scarf and a denim jacket. And now that the cold weather is creeping in, it's best to wear the billowy sleeves up to warm your shoulders. So don't hold back! You can still be a dreamy boho chick this autumn in this dress.
Lune Midi Dress
Featured: Lune Midi Dress
The sleeveless cut may scream "hot summer days," but the subdued neutral color and midi length give this frock a life that stretches beyond the sunny weather.
The Lune Midi Dress has a contemporary yet classic appeal, with its low-cut back, oversized buttons, and a waist tie, all adding to its timelessness. Of course, the slightly cooler weather means you'll need to layer it. Try a turtleneck under this dress with army boots for a '90s cool-girl vibe.
Styling this dress offers many sartorial opportunities. You can add a dark chunky-knit cardigan, gold accessories, and laced booties for a jaw-dropping transitional ensemble. For a more polished office look, replace the cardigan with a tailored blazer and booties.