What to Wear: Fool-Proof Dressing Tips for Every Occasion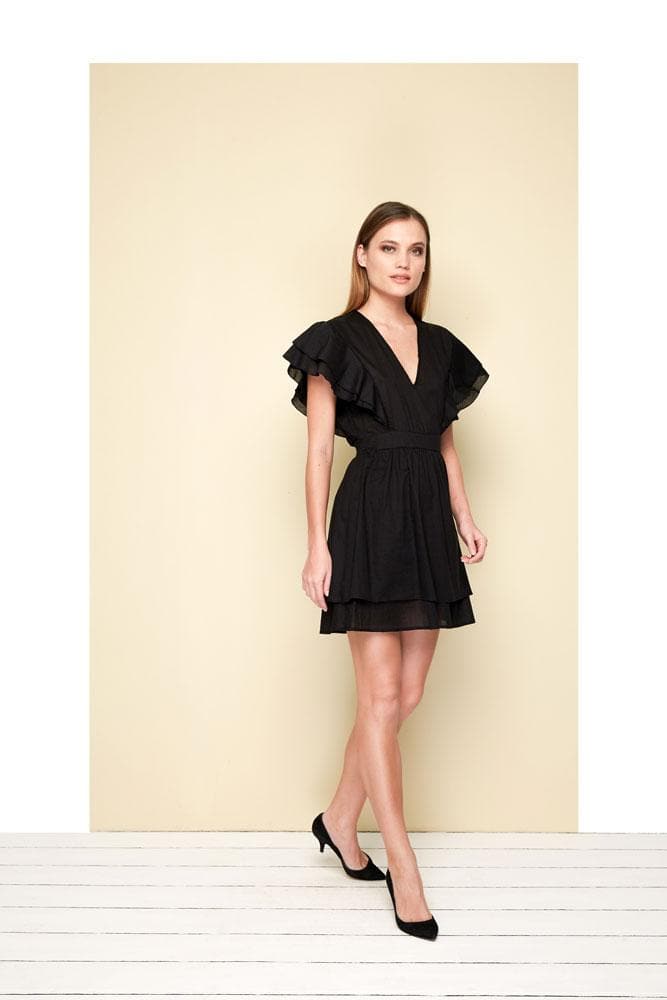 Fun occasions conjure an equally fun yet challenging question: What to wear?
The party season is at its height. Invites to club parties, quick weekend trips, romantic and dinner dates are pouring in. And what you wear to any of these occasions depends on a plethora of factors: the event's formality, venue, weather, and more.
Dressing up for a fun affair can be tricky. But if there's anything we all agree on, it's that style is a way of life, and it doesn't have to be difficult to do.
Luckily, we're here to take the tricky part out of dressing appropriately for your special occasion. From understated sophistication to extravagant glamor, you can slay in your outfit no matter the event with our style guides below.
Here's what to wear to...
A beach club 
Featured: Willow Mini Dress, Oba Wrap Dress
Hitting the beach with your girlfriends means a glam beach club is on the agenda. The days of sippin' on spirits by the beach with the DJ blasting beats call for fun and sexy dressing. Slide on a smudge-proof lipstick, lather SPF on your skin, and wear any of these sustainable, handcrafted pieces to get you sparkling in your much-awaited summer beach rave party.
While a stylish one-piece and a swimwear cover-up remain a fool-proof beach club outfit, some beach clubs have formal dress codes. Try on the laid-back, sexy linen Willow Mini Dress. This elevates your usual mini dress with a low neckline with versatile puff sleeves you can wear up in more formal beach clubs and down to show off your beautiful tan.
Beach parties have gone festival style for the past couple of years, so it's all about making a bold statement. And by bold, we mean donning something feral like the Oba Wrap Dress. Perfect for daytime and nighttime beach parties, this wild dress is bound to make a splash fiercely.
A sunset cruise date
Featured: Paolita Dress, Sahara Jumpsuit
Toast cocktail drinks against panoramic sunset views with your significant other. Ditch your average dinner date ensemble and look ethereal in Paolita Dress.
It's the perfect time to feel luxurious and exquisite. This dreamy dress delivers the ideal balance between formal and casual. With a modest neckline and three-quarter sleeves offsetting the short and flirty hem, this dress is best paired with strappy, gladiator sandals to show off your sexy legs.
If you want to be cozy yet sultry at the same time, take the guesswork out of dressing up with an elegant one-piece. The Sahara Jumpsuit will make you look effortlessly captivating, with its sexy cutout and chic print that will wow your date.
A lavish, trendy restaurant
Featured: Organza Dress, Maia Dress
When whipping out the best outfit for a lunch or dinner at a lavish restaurant, a confidence-boosting frock is a must-wear to feel your best. Whether you're going on a first date or a reunion dinner with friends or family, a romantic dress is essential for this event.
For a fancy dinner date, match the resto's intimate ambiance with an equally sensual dress. The Organza Dress is the ideal ensemble to flaunt your assets. Its double ruffles on the sleeves, deep V-neckline, and high-waisted fit hug your body in all the right places. The flowy, double-layered mini skirt lets you serve some legs. 
If you want your legs covered in a sweeping skirt, then try the Maia Dress. The ladylike cap sleeves, plunging neckline, cinched waist, and blooming floral print give you an ultra-feminine vibe. And the best part? It's a dress that makes a statement all year long, no matter the occasion.
A patio soiree
Featured: Ophelia Midi Dress, Lauren Midi Dress
Hosting an outdoor backyard soiree means dressing your tables, charcuterie boards, bar cart, and yourself to the maximum effect.
Al fresco dining calls for midi dresses, particularly those that bring the most absolute comfort and style. An eye-catching ensemble such as the Ophelia Midi Dress is a solid option for an outdoor get-together. The billowy sleeves, square neckline, and flowy silhouette proclaim that you're the hostess with the mostest, and you deserve the spotlight.
If you prefer to show off more of your summer tan, then slip on the  Lauren Midi Dress. The V-neckline that plunges to your belly button is an announcement of confidence! This handmade, swoon-worthy dress from Bali is sure to make you a soiree standout.
An afternoon picnic
Featured: Roma Top in Sage, Monaco Pants, Bella Romper
Ah, picnics! It's the perfect occasion for gingham or floral dresses, sandals, and simply being one with nature. But before you start making your classic chicken sandwiches, plan your ensemble first to become the ultimate in picnic prairie chic.
Remember to assess the kind of picnic you're heading to - the environment, activities, company, and weather so you can plan your outfit accordingly. Opt for the loosely fitting but elegant Roma Top. Aura designed this ultra-comfortable top for sunny weather. Made from 100% linen outer and 100% cotton lining, it's bound to make you feel fresh and relaxed the entire time you're outside. Pair it with your favorite linen shorts or our Monaco Pants.
But if you want to cut your dressing time in half without compromising on style, don the stylish Bella Romper. Made from high-quality, breezy linen fabric, this cute romper is sure to keep you cool despite the warm weather. Pair it with flats and a stylish sun hat, and you're all set for a fun picnic party.
An office party
Featured: Sienna Blouse, Milan Top, Monaco Pants
Choosing a dashing outfit for an office party can leave you scratching your head. You want to look professional and festive at the same time. Now, how can you achieve that?
Luckily, the Sienna Blouse is here to save the day. Go from desk to dance party with this lightweight, long-sleeved blouse. Just roll up the sleeves and swap out your no-nonsense flats to pointed, red pumps to elevate your style instantly.
The Milan Top is a beautiful wrap-style blouse with a halter neckline, chic tie-fronting detail, and a backless feature. Too sexy, maybe, for the office, but you can cover up with a blazer. But when the 9-to-5 is done, you can lose that blazer to reveal the Milan Top as the perfect, stylish party blouse for an afternoon or night party with your co-workers. This top is best paired with our best-selling Monaco Pants.
Check out our latest, stylish arrivals here
.