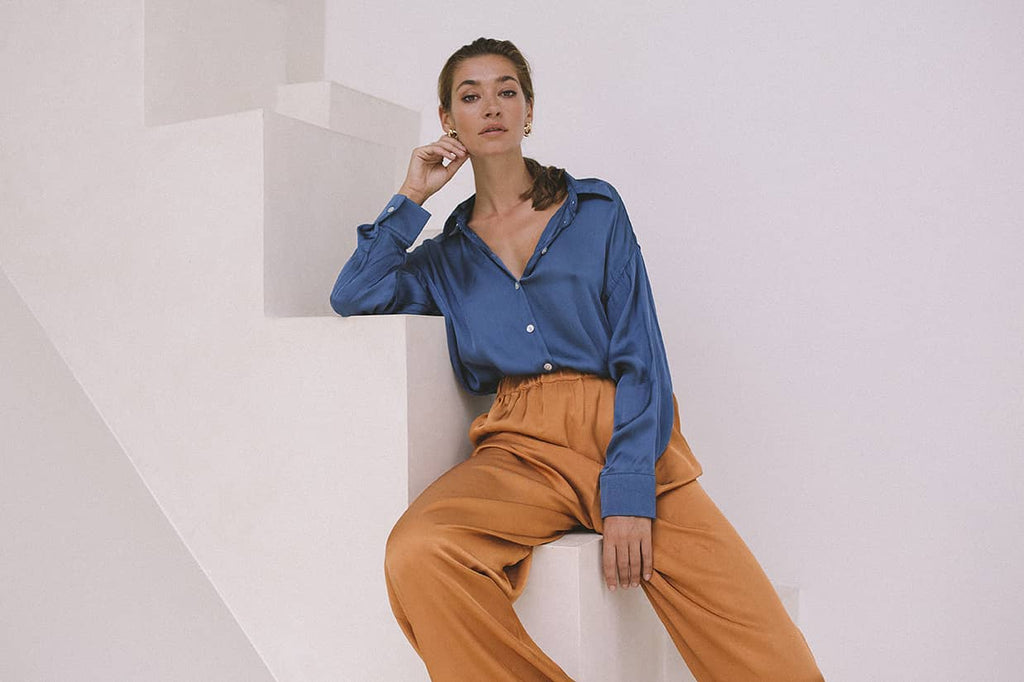 Quirky. Free-spirited. Artistic. Relaxed. These are some of the words that define bohemian fashion as we know it today. But long before it found its home in music festivals like Woodstock and Coachella, it was a movement that fought against commercialism and anything mainstream dating as far back as the 19th century. It is an ideology that represents a more liberated way of life that is strongly anchored in its people. You will be surprised to know that there is much more to boho style than flower crowns and fringe.
Origins
Contrary to its carefree ideal, the roots of bohemianism cut deep. The term first appeared in the late 18th to early 19th century, shortly after the end of the French Revolution. Due to the recession that followed, artists like poets, painters, and musicians were forced into poverty, pushing them to embrace a nomadic life because of all the hardships they had to live through. This situation taught them to focus less on material things and more on expressing their creativity and talent through their newfound lifestyle.
A Brief Timeline of Bohemian Fashion
Early 19th Century

"Bohemian" was a term given by the French to the Romani gypsies who were believed to have traveled from Bohemia, what is the Czech Republic today. Although the term had negative undertones initially, this connotation quickly turned into a romantic one. Soon, gypsy clothes—patchwork, quilts, and asymmetrical hemlines—became all the fashion. The ushering of the Romantic era emphasized the importance of art, music, and literature. With the Romantics joining the French Bohemians, they created a vibrant aesthetic that was expressed through their dressing style.
Mid-19th Century: The Pre-Raphaelite Brotherhood
In Britain, a group of artists called the Pre-Raphaelite Brotherhood also wanted to imbue emotion and sincerity in art and literature. They rejected conformist ideals and instead expressed their admiration for what they saw as real, natural, and free-spirited. This included the Pre-Raphaelites' favor towards flowier and unrestricted garments as opposed to the corsets, petticoats, and stiff clothing used at the time.

Late 19th Century: The Aesthetic Movement and American Bohemianism
Thanks to the aesthetic movement in Europe, bohemian fashion found its way to America via immigration. This time, the style is more focused on creative expression, including vibrant palettes, animal prints, natural elements, as well as oriental motifs. Less restrictive silhouettes are also more common.

Paul Poiret, a French designer and master couturier, became known in America for his poignant yet elegant style. He applied orientalism to develop the romantic and theatrical aspects of clothing, elevating bohemianism to a new level. Poiret expressed his designs through his use of "vivid color coordinations and enigmatic silhouettes," such as his lampshade tunic and harem trousers, both bohemian staples that are still popular to this day.

Another designer, William Morris, created different patterns for both fashion and interior design that included paisley prints, swirls, and other intricate designs.
20th Century and Beatnik Culture
Fast forward to 1950s America and we have the rise of beatnik culture, a media stereotype that showed the superficial aspects of the Beat Generation literary movement. This group of non-conformists supported free speech and individuality, albeit with a more low-profile approach that is different from the bohemian blueprint. Even if the beatniks wore a lot of blacks and stuck to classic prints, their view on self-expression was anything but dull.
An article by BBC Magazine described that the bohemians of the '50s were "typically urban, liberal in outlook but with a few visible political passions, and creative." At its core, bohemianism defined a "cultural, social, and personal reaction to the bourgeois life."
This belief was not much different from the years that followed. In fact, the beatnik philosophy paved the way for another culture that was about to blow up in the next two decades.
The Hippie Culture of the '60s and '70s
What do you get when you combine the non-conformist beliefs of the Beat Generation with the bright bohemian aesthetic? Answer: the hippie culture of the '60s and '70s. This countercultural movement rejected mainstream American life. Much of the fashion that was created in this era is similar to the ones we wear today. From psychedelic prints and bold florals to exaggerated silhouettes and platforms, this was the kind of statement that screamed, "individuality at its best."
Hippies expressed their style through colorful fabrics, long and flowy dresses, tousled hair, and short skirts. Kimonos, which took inspiration from the East, also figured prominently. They also sported handcrafted accessories, including bags, shoes, and jewelry. There was no limit to the color combinations they would wear—the more, the merrier!
Mother Nature also played a big role in boho fashion. Natural materials were vital in making a statement against war and environmental abuse. In addition to flowers, materials like feathers, leather, hemp, linen, straw, and recycled fabrics gave boho style a natural touch, signifying a feeling of oneness with the planet.
Another element that was crucial in the boho fashion scene was western clothes and workwear. Think chambray shirts, denim pants, bolo ties, and fringe jackets, adapting the Native American style for its unconventional appeal. The '60s and '70s were a remarkable era for fashion that rightfully placed boho style in the hall of timeless trends.
Bohemian Style Today
Boho fashion has come a long way, having endured through nearly three centuries and showing no signs of fading away. In today's modern landscape, bohemianism has evolved into a more contemporary concept that is focused on aesthetics. We saw its resurgence in the 2000s, but because of the new millennium, we did not get to see it fully revived until the 2010s.
"Boho-chic" is defined as taking the eccentric, flowy, and retro aspects of the hippie movement and giving them a modern spin. Even with its 200-year-old history, boho fashion still has several unique style elements any fashionista would wear.
Color Palette, Silhouette, and Patterns
Earth colors like green, deep yellows, and neutrals, as well as pastels, are essential to the modern boho style. Complementary shades (or sister shades) are often combined together when creating an outfit, rather than sticking to similar hues from head to toe.

When it comes to silhouettes, boho fashion is faithful to loose, breezy, and comfortable styles. Think maxi dresses, palazzo pants, and bell sleeve shirts. The perfect contrast would be wearing them with big statement jewelry, platform heels, strappy sandals, or oversized sunglasses.

Intricate and artful details also come into play. They are a fun way to showcase your individuality through an outfit. Examples include embroidery, crochet, beadwork, tassels, fringe, studs, and applique.
2. The Determining Factors of Boho Style

Wardrobe
Looking at its colorful history and decades' worth of evolution, boho fashion is a hodgepodge of cultures that culminate in one giant aesthetic. Whether or not this is your first time experimenting with boho style, you might get overwhelmed by all the choices and varying ways to dress bohemian. True bohemian fashion is anything but minimalistic because it draws from different sources and inspirations. That said, how do you create a modern boho wardrobe?
First, you need to get acquainted with some foundation pieces you can build your boho look around:
Kimono
Kimonos are the easiest way to transform your look into something a little eccentric. It adds a dramatic flair that gives your already-chic outfit more flow. Opt for printed pieces that feature paisley patterns, bold florals, or tie-dye. You can also find kimonos that have more texture, such as fringe, sequins, and burnt velvet.
Jumpsuit
Jumpsuits are like dresses because they are a one-piece number, but because they are actually pants, they have an edgier vibe. They give off the perfect 'wanderer' look because they are comfortable, easy to throw on, and could care less about structure. This versatile one-piece goes well with a kimono, platforms, and layered jewelry.
Maxi Dress
A flowing maxi dress is the epitome of the unstructured freedom of the bohemian lifestyle. Since boho style is not loyal to one look, you are free to play with any detail you want. From bishop sleeves to deep-V necklines, keep trying different styles until you find the one you like.
Halter Top
We are eternally grateful to the '70s for making halter tops a permanent closet staple. The cut is simply flattering on anybody, accentuating the shoulders and collarbone beautifully. We would style a halter with a mini skirt or bell-bottoms, sky-high platforms, statement earrings, and a headscarf. The look is utterly hippie and chic and still looks good today.
Embroidery
We already mentioned appliqués, prints, and beading, but embroidery deserves its spot because of its history. Embroidery has been around for centuries and is still used on millions of garments today. It showcases great craftsmanship and adds a personal yet sophisticated touch to any piece; something the bohemian handmade aesthetic perfectly falls into.
Exaggerated Details
Think oversized collars, ruffles, and asymmetrical hemlines. All these details play into the boho blueprint but with a contemporary twist. 'Exaggerated' can be everyday wear no matter the occasion. How? By going the Jane Birkin route, which is boho-chic. Combine boho elements with modern pieces. Picture a white collared blouse with straight-cut jeans, cowboy boots, and a crossbody bag with fringe. It is effortless, trend-forward, and a little extra.
Boots
Ankle, mid-calf, or knee-high, boots are a staple in any boho wardrobe. They are just the type of shoes that can do no wrong, and we think a lot of the fashion icons we mentioned above would agree. Boots are also great for any season, it is just a matter of choosing the right style. Wear them with a maxi skirt, jeans, or a mini dress for an understated yet elegant boho look.
Maximalist Accessories
Statement accessories were made for the free-spirited. There are almost no rules on how to accessorize if you are going for a boho look. Instead, pay attention to the material and color. Various styles run the gamut, from rhinestones and crystals to beads and metal.
Flared Silhouettes
Bell-bottoms were never forgotten. They may have been shunned to make way for more streamlined silhouettes, but today, flares are back and are better than ever. With a high-waist fit, these pants have become more flattering and wearable outside of retro-themed parties. Get them in a classic blue shade as it goes with any top.
Psychedelic Prints
Last but definitely not least, we cannot forget about the crazy prints that changed the world of fashion forever. Equal parts trippy and classy, a boho wardrobe would not be complete without any type of print in the most vibrant colors. These include retro illustrations and graphics, both of which are making a comeback on the runway.
Makeup
Boho makeup was basically non-existent until the '50s came. It has also changed drastically throughout the years, from bold and exaggerated eye looks to today's more demure and ethereal vibe. However, there is just something so timeless about it that many women are still drawn to this makeup style.
So, how do you do boho-inspired makeup? It is simple, and you will not need a lot of products! Here are different occasions where you can rock boho makeup, along with a few tips as well.
Weddings
You want your natural beauty to shine on your special day. For a daytime glam look, stick to a neutral palette with a subtle touch of shimmer. Make sure your base is flawless and camera-ready, especially since you will be taking a lot of pictures. For your cheeks and lips, peach and pink hues work best. Go for beachy waves and accessorize with a headpiece. In true boho fashion, try a crystal tiara or an intricate flower crown.
Music Festivals
We're slowly being introduced to music festivals again, so this might as well be the perfect time to start getting some inspiration for your makeup look. There are no rules when it comes to doing your makeup, so you can play with it as much as you want. Some people opt for neon shades, others go for stick-on jewels, some even go bare-faced. Fun accessories also factor into your whole makeup look, so matching your color palette would be a bright idea. For hairstyles, braids are practical and chic at the same time. You can even go as far as wearing a wig to really commit to the look.
Since you will be outside, slather on a generous amount of SPF before doing your makeup. We are all about going all-out for your look, but do not forget to take care of your skin!
Theme Parties
When the occasion calls for a head-to-toe transformation, the makeup is probably the most fun part because it serves as the finishing touch to your look. Whether the event is '60s- or '70s-themed, there are just so many looks to choose from! Take inspiration from Jimi Hendrix or Cher, two boho icons who embraced brighter palettes. Do not be afraid to wear glitter and mismatched eyeliners—the more eclectic, the better.
Hairstyles
Boho hairstyles are simple and quite easy to achieve. All of them look effortless, even if some take a few minutes to perfect. For example, beachy waves can be attained using overnight braids and a spritz of sea salt spray. A more tousled, volumized look can be achieved with a curling iron and is more often worn for special occasions.
Braids are also a fun and practical way to wear your hair with boho outfits. They keep you cool, plus they make beautiful waves. Try a loose French braid or fishtail braid, for instance. They go beautifully with boho dresses, kimonos, and lounge pants. Leave a few strands to frame your face.  
3). Famous Bohemian Trendsetters and Icons
Boho fashion will not be what it is today if it were not for the style pioneers who ruled every decade. Having a laissez-faire outlook on life not only gives you inner peace and a can-do attitude, but also a covetable wardrobe full of anything but boring pieces—as long as you have the right inspiration, that is.
Today, more talented men and women inspire and continue to influence the fashion world, evolving classic trends to fit the current modes. Fashion will simply cease to exist without the creativity and imagination of its most passionate players, most especially of the bohemian fashionistas. Boho style may look a little different now, but the roots of this rich aesthetic will not be lost as long as we have these fashion icons to look up to.From the beatnik aesthetic of the '50s to the hippie culture of the '70s, here are our favorite fashion icons who brought bohemian style to a new sartorial level.
Stevie Nicks
Stevie Nicks is the first on this list because she might be the most significant. Her effervescent aura both on and off stage proved that she was the ultimate boho queen of her time. It is not just her wardrobe, too. She truly captured the spirit of bohemia—from her iconic twirls to her signature top hat, scarves, and billowy dresses.
How to channel the look: If a top hat feels a little too much, opt for sheer scarves with fringes on them. Wear it as a shawl over a slip dress and style your outfit with chunky heels, and chandelier earrings.


Jane Birkin
Jane Birkin mastered the minimalist-meets-boho look long before it even became a trend. She had an affinity for peasant tops, puff sleeves, knitwear, mini dresses, and flared jeans. The English actress's unrivaled style was mainly inspired by Parisian fashion, which explains why she carried the low-key boho vibe effortlessly.
How to channel the look:
If we were to create a modern-day Jane Birkin-inspired outfit, we'd easily go for a babydoll dress paired with cowboy boots, a basket bag, and a headscarf.
Janis Joplin
Janis Joplin was one of the biggest hippie rock stars of the late '60s who embodied freedom and individuality. Her artistic soul and devil-may-care attitude were perfectly reflected in her outfits, which included tiered sleeves, fur, platforms, beaded accessories, and lots of layered jewelry. Joplin's psychedelic threads paved the way for the eclectic style we have today.
How to channel the look:
Bust out your flared pants, vest, platform heels, and long necklaces to channel Joplin's retro-rock vibe.
Bianca Jagger
Even if she was married to legendary rock star Mick Jagger, Bianca Jagger was a legend and icon in her own right. She frequently wore Halston creations, which included caftans, turbans, and halter dresses, and was a fan of embellishments and intricate details. Although different from the uninhibited nature of boho fashion, Jagger represented the sophisticated side of it. She would wear sparkly jewelry with an asymmetrical dress or a turban with sheer fabrics.
How to channel the look:
Opt for a long, flowy caftan paired with strappy sandals and statement accessories. Think oversized hoops, cuffs, and pendant necklaces.
Talitha Getty
Born to a family of artists, actress and model Talitha Getty 'founded' the hippie-chic style. Her wardrobe consisted of rich colors inspired by luxury and travel, most of which were countries she visited with her husband. Getty's style is oriental-inspired and consists of silk caftans, embroidery, and jewelry. She was also dubbed as the founder of gypset, a nomadic lifestyle that "combines the luxury of jet-set life with the authenticity of travel."
How to channel the look:
Style an all-white outfit with vibrant pops of color and detail. You can also go for a woven ensemble in bright, summery hues paired with gold accessories.
Cher
This list won't be complete without the disco queen herself. Even if her style went through many reinventions, her hippie era was the most memorable. She wore all the trends of the decade—bell-bottoms, cropped tops, sequin pants, towering platforms, bandanas, and fringe dresses—and put her extra spin to them. With her signature long, straight hair, Cher was a force to be reckoned with in the '70s club scene. Cher's then-partner, Sonny, also became a style icon because of how their outfits were always coordinated.
How to channel the look:
Cher is all about glitzy, fun looks, so recreating her style can be tricky. Go for extravagant albeit wearable silhouettes like a halter top with embellishments. There are many Cher outfits you can take inspiration from, just remember to wear your hair down for the finishing touch!
Chaka Khan
As you may have noticed, music and boho fashion worked hand-in-hand back in the day. Chaka Khan, another musician on our list, is dubbed the queen of funk from the '70s. Her unique style is an explosion of eccentric pieces and vivid colors, which beautifully expresses her carefree personality.
How to channel the look:
Like Cher, Chaka Khan is never one to shy away from bold and eye-catching looks. Emanate her Soul Train era in a sequined bodycon dress or a crop top and pants set.
Ali MacGraw
Her movie Love Story catapulted Ali MacGraw to fashion-icon status because of her ethereal bohemian look. She merged preppy, beatnik, and boho to make the look uniquely hers. Think of pleated skirts paired with knee-high boots and metallic jumpsuits paired with crochet hats. She wore chokers with floral maxi dresses and rocked silk bandanas to red-carpet events. MacGraw also loved layering one statement necklace after another, which eventually became a part of her signature look.
How to channel the look:
Kimonos, chokers, and thigh-high boots were all an integral part of Ali MacGraw's wardrobe. Don't forget to top off your look with a bandana.
Jimi Hendrix
Jimi Hendrix was an important icon of the '60s counterculture and went on to represent the decade through rock music. His sound is what inspired his electric boho fashion sense, as seen on the many flared pants, fringe, stripes, vests, and collared shirts he wore onstage. One of his staple style elements was his black hat, which he always wore slightly tilted to one side. It was simple but impactful, making it the perfect finishing piece to any of his outfits.
Hendrix was also a pioneer of the "peacock revolution," where more men were being brave and 'out there' with their style. A true maximalist, Jimi Hendrix cemented himself as an icon for boho fashion, among other things.
How to channel the look:
Never without color, take some inspiration from Jimi Hendrix by emulating his bright ensembles. Think bold stripes, embroidered vests, and printed shirts.
Brigitte Bardot
This boho muse was beloved by many designers because of her legendary style that became famous in the late 50s and 60s. Her signature style included puff sleeves, shoulder-baring styles, gingham dresses, loose pigtails, and floppy woven hats. Like Jane Birkin, Bardot gravitated towards a more boho-chic style: simple, classy, and with touches of color here and there. As an animal rights activist, her beliefs also aligned with the boho philosophy of loving nature and everything it nurtures.
How to channel the look:
Opt for off-the-shoulder tops or dresses, gingham prints, and anything with lace. Bardot is fond of fit-and-flare silhouettes, so you could try to incorporate that into your wardrobe as well.
Anita Pallenberg
Anita Pallenberg was an actress and known "It" girl of the 60s and 70s. You can't be credited as the muse of The Rolling Stones without having the attitude that comes with style. She highlighted boho style with long coats, fur vests, billowy sleeves, flared pants, and mini dresses. Pallenberg was followed by the likes of Stevie Nicks and Ali MacGraw, both of whom established boho style through their iconic outfits and liberated state of mind.
How to channel the look:
Try animal prints like snakeskin and leopard, as well as tailored pieces like jackets and coats. Pallenberg loved to accessorize with hats and long necklaces, so you can try to emulate this as well.
Florence Welch
The Florence + the Machine frontwoman is one of the modern boho style icons we admire today. Bohemianism is an aesthetic that comes so naturally to her you can even feel it through her music. Florence Welch's vintage style is mixed with luxury pieces, radiating a bewitching boho-chic vibe. Like Stevie Nicks, Welch's wardrobe adds to her commanding stage presence. She is often seen in flowy, semi-sheer, and romantic dresses that feature details like lace trimmings, embroidery, and mutton sleeves.
How to channel the look:
Two words—floral dresses. Florence Welch's boho style is essentially "ethereal meets cottagecore." For an everyday look, wear a kimono over jeans and a t-shirt, then finish your look with a floppy hat, layered jewelry, and platform clogs.
The Olsen Twins
Last but not least, we won't end this list without giving the Olsen twins an honorable mention. They started a fashion company dedicated to boho fashion called The Row. Their collections have evolved through the years, but they never forget to give homage to the silhouettes and style elements made popular by bohemianism. Mary-Kate and Ashley's style staples consist of long scarves, silk kimonos, vintage jewelry, oversized totes, and heeled boots.
How to channel the look:
The Olsen twins used to rock caftans on the red carpet. Do the same for a casual day outside and style with strappy sandals, a wide-brim hat, and layered jewelry.
Vanessa Hudgens
Vanessa Hudgens isn't hailed as "Queen of Coachella" for nothing. Her wardrobe has been faithful to the aesthetic since day one, and we loved seeing her style mature and evolve through the years. From prancing around in flower crowns to wearing floor-grazing kimonos on coffee runs, she just makes dressing in head-to-toe boho look so easy. It's this kind of jaunty approach to boho fashion that makes it more accessible to fashionistas today.
How to channel the look: If boho-grunge exists, Vanessa Hudgens is its founder. A maxi dress or robe in a darker palette like burgundy, navy, army green, and black would be a great choice. Accessorize with gold or silver jewelry for a hint of sparkle, circle glasses, and platform heels.
4). Movies That Give Major Boho Outfit Inspiration
We get our style inspiration from many things—music, the internet, social media, or even ordinary people we see on the street. But if there's one form of media that influences fashion and vice versa, it would be the silver screen. Costume designers work hard to create a range of outfits for various scenes and settings. A lot of research and conceptualizing goes into each costume, so it's no surprise that many men and women take fashion inspiration from movie characters. Ahead, we rounded up a few movies from which to glean some serious boho fashion inspiration.
Taking Woodstock, 2009
This comedy/drama film is about yes, you've guessed it—Woodstock. And if a movie is based on one of the most iconic music festivals in history, you can be sure that all the outfits you're about to see will be funky, psychedelic, and groovy. The hair and makeup are also on point, so if you need some beauty inspiration, this is the one to watch.
Recreate the looks in this film by opting for bright floral pieces, suede jackets, boots, wide-legged pants, and fringe. Lots of fringes.
Dazed and Confused, 1993
Compared to the outfits in "Taking Woodstock," this coming-of-age film features a more casual wardrobe. Take a glimpse into the 1970s youth culture, where people are rocking bell-bottoms and bold prints left and right. The outfits in this movie are more appropriate with everyday wear, but you can always elevate it with a few select pieces.
Channel your inner Darla Marks with a pair of rainbow pants, chunky platforms, and a fitted shirt.
Almost Famous, 2000
Set in 1969, this movie set the stage for all the wonderful '70s fashion trends to come. You'll find an abundance of leather, embroidered jeans, kimonos, fur coats, and bell bottoms. If you've seen the movie, then you know who Penny Lane is. Her character wore what must be one of the most famous coats in cinematic history.
Emulate some of the looks in this film with only a few items, such as high-waist jeans, flared pants, shearling coats, leather vests, platforms, and raglan tees.
Bohemian Rhapsody, 2018
You probably already saw this coming, but we're including it anyway. Queen were pioneers in the British rock music scene and the music industry in general in the '70s and '80s, with an emphasis in the '70s because of fashion alone. There were a lot of tailored pieces, high-waist flares, vests, and big hair. The band embodied the bohemian aesthetic like no other and went against the trends by establishing their own. Big props to the costume design team for creating such an inspiring and stylish wardrobe.
Forrest Gump, 1994
Forrest Gump's love interest, Jenny, gave us all the style inspiration we needed especially during the 1970s setting in the movie. She was seen wearing flowy dresses, suede vests, flower crowns, and glitzy halter dresses. Her hair was already effortlessly wavy, which added impact to all her outfits.
Frida, 2002
Although the film is not set in the '70s like the others on this list, Frida's wardrobe reflected the early years of bohemian fashion. She was a Mexican painter who left a huge cultural impact on the arts, so naturally, her influence in style is just as significant. The movie was able to showcase this beautifully. Frida, played by Salma Hayek, donned a lot of tiered and ruffled maxi dresses, shawls, tassels, big flower crowns, and vibrant fabrics. Complete your ensemble with red lipstick to recreate her look.
Flashback, 1990
A plot with a hippie on the run makes this movie worth watching, and getting outfit inspirations from it is a bonus. Match the style in this action/comedy by wearing flowy maxi dresses, loose curls, floral prints, and tie-dye.
5). Do's and Don'ts of Modern Boho Fashion
As we all know by now, bohemian fashion is all about expressing one's individuality. And while a lot of us are into minimalism nowadays, there are still ways to inject boho-chic into your wardrobe. Here are some styling tips on how to nail a contemporary boho look.
Natural Fabrics
Boho fashion is sustainable by nature. Materials like linen, hemp, cotton, and denim play a huge part in the creation of the 'standard' boho wardrobe and are in line with its eco-friendly philosophy. Leather and faux leather are still widely debated to this day because one harms animals while the other harms the environment. The better approach is to go with vintage or secondhand if you want to incorporate either into your wardrobe.
Avoid Neon Colors
Oversaturated colors are good once in a while (think neon and tie-dye), but a boho palette mostly consists of neutral, earthy, and pastel colors. Try pairing different shades of the same color to achieve a gradient look. Picture an Egyptian blue top paired with light-wash jeans.
Pay Attention to the Techniques
Details are everything when it comes to boho fashion, so being keen on intricate details is a must. Additionally, boho style includes artisanal techniques, putting great value on individuality and creativity. Methods such as macrame, crochet, knitting, patchwork, beading, and embroidery give boho pieces unique characteristics.
Small Prints, Big Prints
Combining dainty prints with larger patterns adds intrigue and texture to an outfit. It gives off that maximalist vibe, which is what boho fashion is all about at the end of the day. To avoid being overwhelmed by different designs, try mixing small dots with big retro florals. We suggest you start with prints you're most comfortable wearing before stepping out into bolder patterns.
Don't Worry About Looking "Neat"
In short, embrace the mess! The reason why boho style manages to stay faithful to its aesthetic is that everything goes with everything. There are no strict rules when it comes to choosing a statement piece, so just go with what you feel like wearing. It doesn't need to be proportioned or tailored to fit.
Layer, Layer, Layer
Fall, winter, and even spring are golden opportunities to layer beautiful pieces. For instance, pair a long floral dress with a mesh inner and fringe jacket. Finish the look with ankle boots and layered jewelry.
Support Artisans and Local Designers
Artists basically created bohemian fashion, so it's nice to pay homage to its roots today by supporting handmade pieces and local designs. Whether it is jewelry, footwear, clothes, or even homeware, authentic craftsmanship is a mark of boho style, and nothing can compete with it.
6). How To Wear Boho at Any Age
Boho fashion is characterized by maxi dresses, kimono robes, peasant blouses, ethnic prints, embellishments, and more. It's often layered and beautiful, which may give the impression that it's only suitable for the younger crowd. However, that is not the case. Anybody can pull off boho style regardless of one's age or gender. It's not defined by trends but rather a person's creativity and individuality.
Today, more and more people are embracing the boho-modern look although there are still some who prefer the '70s-heavy aesthetic. Ahead, we rounded up some styling tips on how to incorporate either into your wardrobe.
20s
Those in their 20s are young, energetic, and experimental with their personal style, which is why they feel freer to try and wear whatever they want. If you want to introduce boho fashion to your wardrobe, start by creating a palette. Streamlining your palette makes it easier to pick out the pieces you want to reach out for, such as jackets, pants, and tops.
Shades like pink, blue, yellow, and orange are a great foundation for a colorful boho closet. Also, this is a fun time to play with different makeup looks and hairstyles. The '70s alone were full of youthful references to fashion, from big flower prints to fringes with beads to towering platforms. Don't be afraid to make a statement every time you step out. You'll never know when you'll find your signature boho look.
30s
You've developed a more mature sense of style by this time. Veering away from bold boho pieces and moving to fresh influences like Americana and minimalism, this is where boho-chic comes in. Take a look at the Olsen twins, Sienna Miller, Vanessa Hudgens, and Florence Welch. In more recent years, these trendsetters have adopted a more refined and sleek boho style.
You may favor neutral palettes with a splash of color here and there. However, your wardrobe can still carry classic staples like embroidered jackets, drapey kimonos, wide-brim hats, sundresses, and flared pants. Fabrics like suede, silk, and denim are also considered staples, sometimes with fur accents on statement pieces.
40s, 50s, and Above
Anchored on timelessness and elegance, having a more mature boho wardrobe means you have settled on certain staples you want to wear again and again. This includes jewelry, which can be a mix of gold and silver pieces as well as beaded accessories. For apparel, tunics and caftans are perfect for both casual and dressier occasions. Incorporate elegant embellishments like sequins, embroidery, and lace.
At this point, no one can really dictate how you dress because nobody knows your style like you do. Whether you want to wear head-to-toe fringe or don an embellished dress for a casual occasion, go for it.
7). The Different Types of Bohemian Styles
Boho fashion falls under a gamut of influences. From the beatnik movement of the '50s when classic prints and sleek silhouettes reigned supreme to the funky disco era of the '70s and its obsession with exaggerated designs and shapes to the resurgence of boho-chic in the early 2000s, the range is diverse. Considering this wide spectrum, which type of bohemian are you?
The Romantic Bohemian
Known today as "cottagecore," the romantic bohemian style draws inspiration from vintage items and handmade patterns. You favor soft hues like blush and ivory, delicate fabrics, and flouncy silhouettes. Floral prints, lace, and ruffles evoke a whimsical vibe, which makes it an ideal style for weddings.
Recommended color palette:
Blush
Ivory
Powder Blue
Mauve
White
Elements to look for:
Macrame
Oversized Bib Collars
Embroidery
Sheer Fabrics
Flowers
The Disco Diva
We mentioned Cher quite a few times on this blog already, but that's because nobody did funky '70s fashion quite like she did. You don't care about fashion rules because your style is all about going with the flow. It's also heavily influenced by music, including Donna Summer, Chaka Khan, and the rest of the Soul Train crew. You love getting groovy and playing around with your look, and you never fail to turn heads wherever you go.

Recommended color palette:
Electric Blue
Fuchsia
Gold
Orange
Violet
Elements to look for:
Metallics
Ultra-Flared Silhouettes
Go-Go Boots
Faux Fur
Cropped Silhouettes
The Hippie
This style is not as different from its funky '70s counterpart, although there are still a few defining characteristics. Coming from the monochromatic style of the '50s, hippie fashion started to embrace color and bold prints. The culture revolved around peace, love, and unity, which was then greatly reflected in what people wore. You radiate the same energy, and it shows in your wardrobe. You are drawn to anything bright and natural like flowers and animals.

Recommended color palette:
Green
Beige
Mustard
Brown
Orange
Elements to look for:
Tie-Dye
Fringe
Retro Florals
High Platforms
Suede
The Urban Bohemian
Edgy, brazen, and bold—these are some of the words that describe your personality and style. Think of this as a cross between boho and grunge, which was definitely a product of early 2000s boho fashion. You're into darker hues like burgundy, black, and navy, you prefer form-fitted silhouettes with a few flowy pieces once in a while, and you're particularly fond of leather and studs. This aesthetic totally works because, while opposites, the elements meld together beautifully. Picture a pair of maroon velvet pants paired with a leather fringe vest and boots.
Recommended color palette:
Burgundy
Black
Plum
Emerald Green
Navy
Elements to look for:
Edgy Accessories
Leather
Burnt Velvet
Bold Makeup
Gladiator Sandals
The Offbeat Artist
Kitschy and eclectic, you love to wear a mishmash of pieces that are mostly inspired by different cultures, eras, or people. Like the disco diva, you don't follow any fashion rules and just go with what inspired you. Your eclectic sense of style often leads you to create one unique look after another, giving the impression that you don't like repeating your outfits when in fact you're just utilizing your creativity to mix and match pieces.
Recommended color palette:
Magenta
Yellow
Chartreuse
Teal
Turquoise
Elements to look for:
Patchwork
Quilts
Vintage Pieces
Wooden Elements
The Chic Minimalist
We've also brushed over the boho-chic aesthetic earlier, but we're diving deeper this time. This style is described as more polished and elegant, contrary to the signature disheveled look of boho fashion. You prefer sleeker silhouettes to loose and flowy garments and favor earthy colors over vibrant ones. Imagine styling a floor-length kimono with a structured tote, heels, and a wide-brim hat.

Recommended color palette:
Off-White
Bronze
Dusty Rose
Sand
Sage
Elements to look for:
Maxi Dresses
Tassels
Tailored Totes
Minimal Jewelry
Straight-Cut Jeans
8). Astrology and Boho Fashion
Believe it or not, astrology has also made an impact on bohemian style. Its mystical origins shaped a belief that's centered on love, light, personal transformation, and enlightenment. Today, astrology is more commonly adopted in many aspects of life. Case in point—zodiac signs. Star signs hold significant meanings for every individual who wishes to learn more about himself or herself.
We may not know what's in store for you or where you're headed this year, but what we do know is that you have a stylish year ahead of you. Aura has a range of classic boho pieces that you'll want to have in your closet, from coordinates and linen maxi dresses to satin pants and gold jewelry.
Capricorn
Capricorns are creatures of comfort, which means you're all about cozy, easy pieces. This makes sense since your sign falls in the middle of winter. Your style evolves every year but still like to keep it comfortable, functional, and in style. You love simple silhouettes but with a twist.

Your Capsule Wardrobe

You gravitate towards elevated basics, such as jumpsuits, midi skirts, oversized blazers, and tank tops. Since you prioritize comfort, your go-to fabrics are linen and cotton for spring/summer and cashmere for colder weather.

Sahara Jumpsuit
Aquarius
You love taking risks when it comes to fashion. You don't shy away from bold prints, colors, and silhouettes that reflect your equally bright personality. When you create a look, you opt for statement pieces that stand out at first glance. Your outfits exude sophistication, and it makes you feel your most confident and beautiful.

Your Capsule Wardrobe

Large floral prints are definitely on your list of closet staples, as well as deep-V necklines that you can accessorize with layered necklaces. In addition to vibrant palettes, you also love classic neutrals that complement brighter hues.
Vintage Floral Peasant Dress
Pisces
You're a true boho at heart! Your friends describe you as easygoing, romantic, and free-spirited. Your whimsical fashion sense reflects your warm and fun-loving personality, and you're not afraid to explore new styles. Your go-to's are eye-catching but nothing too over the top.

Your Capsule Wardrobe

When it comes to your wardrobe staples, flowing dresses dominate. You also love sheer fabrics like mesh and lace and like to see color in your closet.

Lauren Midi Dress
Aries
Confidence flows through you. You easily radiate a sense of authority without being intimidating, and it shows in the outfits you wear. You love to stick to classics but still value comfort over anything. You amaze people with how you can take an outfit from 1 to 10 real quick, proving that timeless pieces are worth the investment.

Your Capsule Wardrobe

You can rock athleisure one day and a chic power suit the next. You like to switch things up once in a while, so your closet contains a good balance of basics like blazers and statement pieces. Accessories are also integral to your everyday wear, no matter the occasion.
Relaxed Cropped Shirt
Taurus
Taurus individuals are most often the group's resident influencers, fashionistas, and stylists. Your friends always run to you for fashion advice, be it for an important event, a date, or even a wedding! Your bold style is what makes you stand out in a sea of basics, and you're not afraid to take a step further. You love to make a statement, whether it's in the top you're wearing or the jewelry you're rocking.

Your Capsule Wardrobe

Your style is fashion-forward but comfortable. You also like shopping vintage because you're drawn to unique pieces, from shoes to accessories to clothes.

Milan Top
Gemini
Geminis are also fashion risk-takers. You're an outspoken and fierce individual who loves to play dress-up. You also set trends without meaning to, showcasing your creativity through different outfits. Since you're not afraid to experiment, you like to invest in long-lasting, one-of-a-kind pieces that you can mix and match. You value quality over quantity, which means you own a good mix of classics and trendy pieces.

Your Capsule Wardrobe

You love to keep up with the trends while still staying faithful to your style. You like to play with proportions, so a tailored blazer and a couple of wide-leg pants are a must. For accessories, your philosophy is the more, the better!
Satin Wide Leg Pant
Cancer
The word "overdressed" doesn't exist in your vocabulary. You know how to nail classy and trendy perfectly, and you have the most distinct personal style among your peers. You draw from different inspirations when creating an outfit, including music, movies, and even your mood. Most cancers are creatives, too, so, naturally, you see fashion as a form of art.

Your Capsule Wardrobe

You like pairing sharp silhouettes with relaxed pieces, like a boxy blazer with an asymmetrical floral dress and combat boots—complete with that bohemian twist. You also like shopping in the men's section for oversized shirts and button-downs. For accessories, you love a solid statement piece like a gold cuff or mismatched earrings.

Linen Blazer
Leo
Leos have strong and fiery personalities and are often fearless. You are always ready for any challenges, and that includes creating a unique wardrobe filled with all your tried-and-true staples. You let passion and creativity rule your life, then translate it to your clothes with much confidence. People may find you intimidating, but don't let that keep you from shining and expressing your genuine self.

Your Capsule Wardrobe

Your closet has a fair share of vibrant pieces—think printed kimonos and tie-dye dresses. Not one to let trends pass, you like to mix them with classic styles. You always go with your gut when dressing up, which says a lot about how you tackle fashion and life.
Linen Midi Dress
Virgo
You are all about practicality, whether it's in real life or your wardrobe. You love to get things done right away without sacrificing a little bit of fun, and that is what your friends and family love about you. You are a stickler for rules but also know when to break them. Wellness, food, art, and nature are among your interests, and you show your maturity in different aspects.

Your Capsule Wardrobe

Classy, simple, and practical, Virgos have a deep appreciation for the classics and lean towards structured silhouettes. You love a polished look and have a collection of well-loved investment pieces. You mostly stick to one color palette but still like a statement piece every once in a while.

Sicily Coat
Libra
Known as the rebel of the group, a Libra is described as feisty, brave, and adventurous. You like to take a walk on the wild side, and it shows in the outfits you rock. You gravitate towards a darker palette no matter the season, with splashes of texture like metallics, leather, and velvet. When you are in a bubbly mood or full-on serious mode, you sometimes like to mix it up with softer accents, such as lace and mesh.

Your Capsule Wardrobe

Dresses you can take from day to night are a must in your closet. You favor classic pieces over trendy ones, and you like fabrics that feel a little luxe. Think silk, satin, linen, and suede. You like to accessorize with either silver or gold jewelry, sleek bags, and heels.

Elegant Maxi Dress
Scorpio

Grounded, refined, and a minimalist at heart, you take these qualities to your style and how you live your life. You are always polished to perfection, whether you are dressing up for work or attending a special event. You tend to keep your favorite pieces close, but don't let that stop you from exploring other styles. It is true that there is beauty in familiarity, but try to reach for fun and unique pieces once in a while to spruce up your look.

Your Capsule Wardrobe

You are the type who gets attached to one item and grabs it in many different colors. You just love the security of tried-and-true staples, and we are here for it! Your signature fit includes a wear-with-anything top, relaxed pants, and a midi dress.

Sienna Blouse
Sagittarius

Sagittarius individuals are the life of the party. Your energy and sense of humor are the reason people are naturally drawn to you, and it translates to your style, too. You have a knack for comfortable pieces that are feminine, bright, and timeless. You like to toughen things up with accessories now and then, but your looks are never stuffy.

Your Capsule Wardrobe

Your wardrobe can't survive without anything floral, whether it's a dress, top, bag, or even shoes. You also like flowy silhouettes, like a tiered skirt, wrap dress, or pleated palazzo pants. Colors are very much welcome in your closet, so try to mix and match them with neutrals.
Willow Mini Dress
9). The Difference Between Traditional Boho and Modern Boho-Chic, Plus How To Wear Both
With the influence of decade  s past and the cultures that come with them, bohemian fashion has been on quite a journey. But to be honest, there is not much difference between the 'old' bohemian style and what we know as boho-chic. Essentially, boho-chic takes the elements of true bohemian fashion and combines it with a contemporary aesthetic.

Take a look at the personal styles of Stevie Nicks and Jane Birkin. Both are rooted in boho fashion but have very distinct looks. Stevie Nicks wore asymmetrical dresses, shawls with tassels, tailored jackets, and hats; while Jane Birkin favored short dresses with embroidery, basket bags, floral pants, and off-the-shoulder tops. In today's fashion landscape, more people would gravitate towards the latter, but there are also ways to incorporate authentic bohemian style into a modern wardrobe.

Creating a boho-chic wardrobe can be tricky, but if you are ready to try something new and a little bit brighter, it is worth a shot. Think of it as building a retro capsule wardrobe, because you are basically tapping into different eras for all the boho pieces you will get.

Key Pieces
Dresses
The Moroccan Wrap Dress is what boho-chic dreams are made of. This simple yet elevated piece features mixed floral prints in the most beautiful earthy colors. The dress's deep V-neckline and tiered hem make it look and feel modern without losing its bohemian elements.
Another Aura staple is the Luna Skirt Set, which introduces a fresh way to wear long, flowy silhouettes. It features a cropped top with cap sleeves and a matching tiered maxi skirt that looks enchanting at any occasion. It is also made from linen, a breezy and comfortable fabric perfect for spring and summer.
For something that is a little bit flirty and romantic, meet the Fleur Mini Wrap Dress. The self-tie wrap silhouette flatters the shape with a delicate cinch. We love to style it with heeled mules, a basket bag, and statement earrings for a brunch-ready boho look.
Tops
Minimalism is an important aspect of the boho-chic aesthetic, and the Oversized Bohemian Tunic is the perfect top to start with. Designed for days when you want to add an extra flair to your outfit, this top has voluminous sleeves, oversized pleats, a V-neckline, and an overall relaxed silhouette.
Another top you would want to add to your closet is the Roma Top. It features a basic silhouette that is made modern with a cropped hem and a square neckline. Pair it with printed palazzo pants and platform heels for a touch of hippie-chic.
We mentioned halter tops earlier, so it is just right that we include them here. Our Milan Top is perfect for dressy occasions or if you want that extra breeze in your ensemble. The linen material makes it breathable and comfortable even on the hottest days. Wear it with the matching Monaco Pants for the ultimate boho-chic look.
Pants
Our Satin Cropped Pant is an easy piece to throw on to create a sleek boho ensemble. The structured boyfriend cut silhouette goes beautifully with oversized collars, tunics, boxy jackets, and button-downs.
Made for women of all shapes and sizes, the Satin Wide Leg Pant is a chic alternative to the more casual palazzo pant. It exudes a subtle statement that is equal parts boho and modern. Wear it with a cropped top and a flowy kimono for a sleek summer look.
Want a cozier option for those lazy days? The Luxury Knit Pants are an excellent choice. It is about time boho loungewear gets recognized and becomes a staple in any boho wardrobe. Made from 100% mohair wool fabric, elevate your indoor look with this piece.
Jumpsuits
Trust us when we say you will only need two types of jumpsuits in your wardrobe. One is the Linen Romper, which features a classic button-down closure, oversized sleeves, and contemporary A-line shorts. It offers ultimate comfortability without losing its bohemian charm, plus it keeps you looking put-together without wearing too much.
Another dreamy option is the Sahara Jumpsuit, a printed one-piece that features a triangle top shape and keyhole detail. The wide-leg silhouette makes it super flattering for all body types. Wear it with ankle boots or slides and accessorize with layered jewelry.
Accent Pieces, Outerwear, and Accessories
Blazers
We love how blazers have become wardrobe staples regardless of one's personal style. They just pull together outfits easily without being over the top. There are many iterations to choose from, such as linen blazers, classic tweed, jacquard, silk, leather, and denim blazers. Picture styling a floral maxi dress with a boxy blazer, ankle boots, and a dainty woven bag. It marries the eccentricity of boho fashion and the sleekness of urban style. Another way you can style a blazer is to wear it with a cropped top and wide-leg pants. Accessorize with dangle earrings and a bag with fringe. Taking note of little details like these could help you make an outfit more boho with just a few simple style tricks.
Robes and Kimonos
Layering is important in boho fashion, and kimonos make great layering pieces. Think of incorporating details like tassels, embroidery, burnt velvet, and even batik prints. There are also various lengths to choose from, including cropped, mid-length, and long kimonos. Channel your inner Mary-Kate and Ashley by wearing it over a caftan.
The Cranberry Floral Kimono is the perfect boho touch to a simple outfit. It features a floral and batik print all over, making it an easy statement piece for those days when you are too lazy to dress up but still want to look stylish. We love to wear it with a matching top and pants set, mules, and a wide-brim hat.
It is not a kimono nor a robe, but the Belted Wrap Coat looks and feels just like one. Consider it a staple for the colder weather. It features a simple silhouette that falls down to the ankles, sharp lines, and a belted waist to give you a flattering shape.
Ankle Boots
In addition to chic slides, gladiators, and platforms, ankle boots are great to keep in your boho capsule wardrobe because of how versatile they are. You can wear them with skirts, dresses, and jeans, instantly elevating your look for any occasion. We recommend opting for leather boots so that they wear and last longer. The boots' lived-in appeal adds to their boho charm.
Cage Sandals
Also known as fisherman sandals, these flats look great with just about anything. We have seen this shoe style trend year in and year out, which establishes that it should be a permanent wardrobe staple. Style your pair with an embellished dress or embroidered top to strike a perfect balance. Go for neutral tones like beige, brown, white, or black.
Gold Jewelry
Gold is a universally flattering shade, so accessorizing with it is a breeze. You can layer it to create depth and dimension while still sticking to a minimalist ensemble. The Horus Signet Ring is an elegant ring that you can stack with other rings for a curated vibe. It features the Eye of Horus, a symbol that represents well-being, healing, and protection. In ancient Egyptian religion, Horus was said to be the sky and that the sun and moon are his eyes.
Another signature piece you can add to your boho jewelry collection is the Eclipse Ring. It features a citrine stone, or yellow quartz, which has been associated with the healing properties of the sun. In ancient cultures, citrine is believed to provide energy and promote chemical balance in your body. This belief is aligned with the bohemian principle of staying grounded and relying on nature's wonders.
For necklaces, we suggest going for thin chains you can layer easily. The Warrior Necklace is the perfect starter piece because of how classy it looks on its own or with other pieces. Inspired by the warriors and chariots from Ancient Greece, this necklace lets you channel your inner goddess with minimal effort.
We also recommend the Botanical Necklace, a shorter piece that looks stunning when layered with longer chains. It features delicate tassel-like pendants that accentuate the collarbone. You will feel like a true bohemian goddess with this chain around your neck.
Hats
In place of flower crowns and crystal tiaras, wear a wide-brimmed hat or beret to complete your outfit. It evokes a cool-girl style that is not intimidating. You can also wear it in both colder and warmer temperatures, it just depends on the material you choose.
Final Thoughts
Who would've thought that a counterculture started by artists, non-conformists, and the impoverished in the 19th century would still be well-loved today for its unique style? More than being a fun sartorial choice, the boho philosophy transcends fashion. It is also about exploring your individuality and creatively practicing self-expression. Underneath the colorful palettes, vibrant prints, and eye-catching details, boho style teaches us to "go against the current." If you ask us, we want to look at it as more of a lifestyle than a fashion trend. When you see someone dressed in a bohemian-inspired outfit, you would like to think that they have a free-spirited disposition and are fueled by creativity, love, and light.
There's no doubt that boho fashion is fun, wild, and sophisticated at the same time. It knows no special occasions because it is naturally elegant without trying hard. For example, just think of the intricate designs and craftsmanship that go into an embroidered dress. More than the outfit itself, boho fashion is all about perfecting the smallest detail.
We love how boho style can also be minimalistic because that is what Aura is all about. We strive to capture effortless elegance through pieces that take inspiration from the roots of boho fashion and combine it with contemporary silhouettes. Every piece in our collection is designed with the modern woman in mind—romantic yet powerful, strong yet graceful, simple yet sophisticated. Our products are also made from sustainably sourced materials, which draws a parallel to boho fashion's nature-inspired aesthetic.
Throughout its long history and evolution, boho fashion went through so many changes only for it to return to its original philosophy, which is simply about freedom of expression. It encourages you to step out of your comfort zone so that you can dress however you want and forget about what's trending. This is also the reason why many people celebrate "bohemian life" and everything it stands for. It is a melting pot of many cultures from different parts of the world.
Boho fashion is proof that our beliefs can shape and impact how we create and express ourselves, including the way we dress. We only hope that it will continue for years to come and be passed onto the next generation.
Continue reading