10 Dresses You'd Want to Wear All Summer Long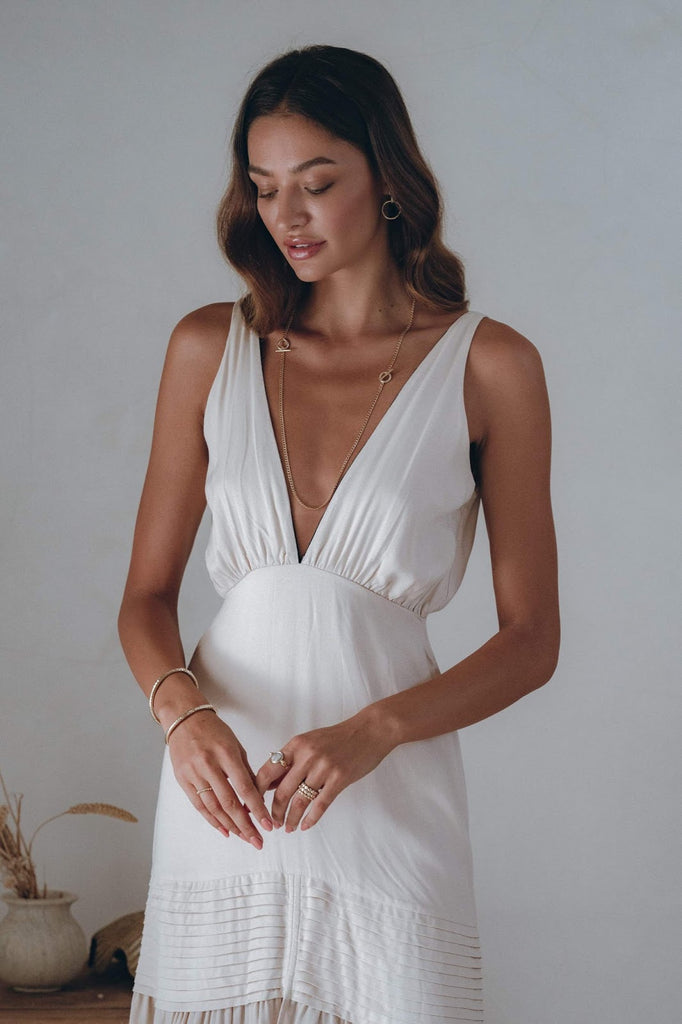 Ahh, summer. The most beautiful time of the year where everyone gets to wear breezy and effortlessly chic pieces and simply bask in the all-around warmth.
One of the keys to enjoying summer is having a reliable wardrobe of single-item outfits to take you from running errands during the day under the blistering sun to making you feel confident and chic for a quick wine and dine with friends, or an evening summer date with your SO.
If your wardrobe is still not up-to-date with the changing of the season, you're in luck because below are some of the most practical yet stylish dresses you'd want to wear all summer long.
For the stay-at-home darling who also enjoys dressing up and looking put-together, the Paolita dress is perfect for you. This flowy white dress has a round neckline and sleeves, but even though it may look conservative, the keyhole detail running at the front together with its lace detailing makes it sexy enough without giving it all away. This dress is an ultimate keeper for those slow summer days spent lazing around or for taking solitary walks by the beach.
2. For A Cute Day-To-Evening Look:

 

The Fawn Linen Wrap Dress
If you're looking for that one mini dress that does it all — the Fawn Linen Wrap Dress is it. This flattering mini dress may be all that you need for the summer if you're the minimalist type. Throw on a linen blazer with this dress and you're all set for a quick meeting or a coffee shop hang with your friends. Or opt for a more structured look for your date night by adding some gold pieces of jewelry, nude heels, and red lipstick to complete the look.
Add sultriness to your summer wardrobe with the Oba Wrap Dress. The Oba is the ultimate siren dress to wear on summer date nights with your SO. It features draped kimono sleeves for coverage that's oh-so-right while the wrap dress gives way for a long slit so you can show off your legs while sipping wine at dinner. Oh and the bold animalistic print? It's just perfect for maximalists who simply adore prints while still keeping everything elegant.
4. For Your Best Friend's Intimate Wedding:

 

The Lauren Midi Dress
Nothing says elegance in the summer more than light, flowy fabrics and a deep neckline. With a deep v-neck in the front and back, this is the best dress to wear this summer to show off your tan. Complement the unbridled elegance of this dress with a thin chain ankle bracelet, a simple slip-on sandal, and a structured rattan bag. Get ready to make heads turn - whether you're at a virtual wedding ceremony or in a swanky restaurant.
This classic shirtdress takes you from your morning coffee run to your Zoom meetings in ease. It has a detachable belt to suit your every mood and a beautiful v-neck to show off your collarbones. The rayon material of this dress makes you move comfortably around the house and the olive green color complements your summer tan. Pair this comfy shirt dress with strappy earth-toned sandals and you'll be the most fashionable woman in that coffee shop
or at a work meeting.
6. For All-White Chic Summer:

 

The Aster Dress
The Aster dress is the missing piece to your roster of white elegant dresses. The length of this dress is just right. Throw a structured oversized blazer on and this becomes the perfect business casual look. It is also perfect for a midday stroll at the beach since it's a knee-length cut so you can dip your toes in the water without risking it. Don't forget a straw hat and a mid-length cardigan for when it gets chilly out.
Blush is such a muted and underrated color. And because summer is here, it's the best time to whip this out for a night of dancing and unadulterated fun. Complete the look by putting your hair up in a bun, wearing nude lipstick, and a killer strappy stiletto.
This ruffled wrap dress is as easy as a summer day. Light, breezy, and with just the right V-cut for the neckline, it's a perfect evening dress. Wear this out at sundown with a pair of one-inch chunky block heels and a structured rattan bag as you take a walk on the way to a romantic dinner. Wear a thin round necklace and statement earrings and the night is yours for the taking. (Just don't spill wine on this gorgeous piece.
Wearing linen under the hot, sticky sun is one of the best things in life. If you don't know this feeling, it's time to invest in a few linen dresses this summer. Yes, we recommend this linen midi dress. This piece works just as practically and fashionably for any errand, a quick stroll at the park with your dog, or for meeting up with your best friends. With the unique neckline of this dress, you may skip necklaces altogether. But if you are an accessories gal, a pair of elegant minimalist gold earrings will complete the look.
10. For The Timeless and Elegant:

 

The Sophia Shirt Dress
Compete with the sun in this easy terracotta linen shirt dress. Roll up your sleeves for an effortless look while you work from home during the summer season. And after work hours, you can wear the Sophia Shirt Dress with espadrilles and a straw hat for some light reading at the beach or cocktail hour with friends. Remember to say prepare your 'thank you's' for all the compliments you will get.
Effortless Dressing For Summer
Whatever your summer activities may be, a comfortable and chic dress should be a non-negotiable in your closet. We ensure that every piece is precisely what you need—comfortable, timeless, elegant. Made from sustainably sourced materials by skilled Balinese artisans, you'll live an eternal summer while living in our pieces.