Dressing For Special Occasions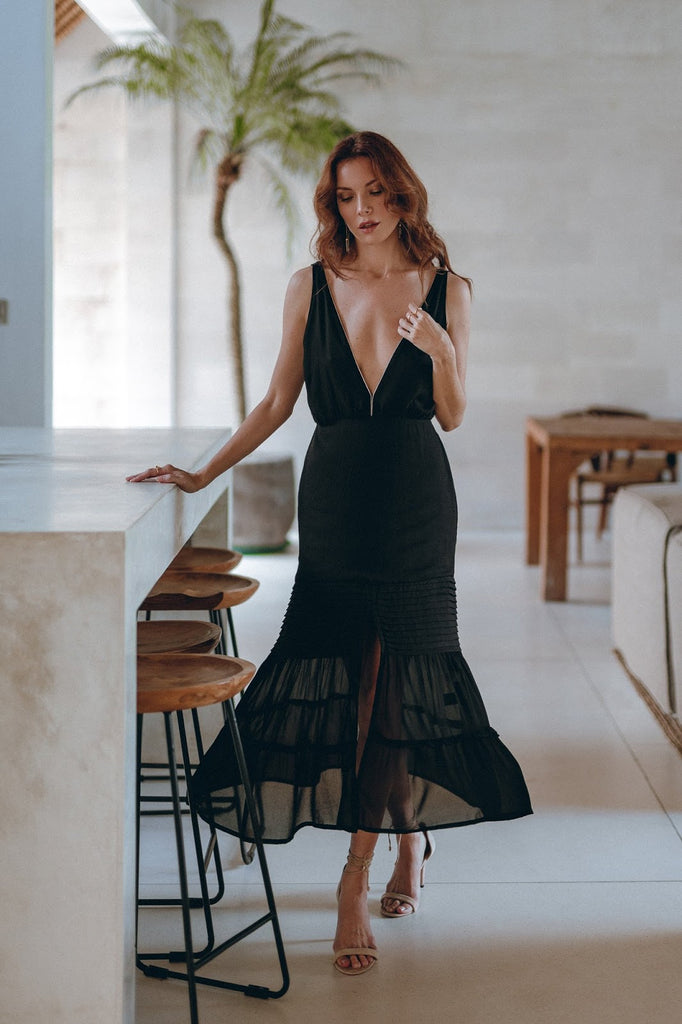 Something is exciting about special occasions. It could be the ambiance, finally spending time with friends we have not seen in ages, or just the overall celebratory aspect. The next best thing to any event -- be it a wedding or a close friend's going away party -- is getting dolled up, and nothing's more fun than being in a room with your best friends and getting ready.
A specific dress code has to be abided at special occasions -- think an all-black ensemble for a work-related event or something consisting of red and gold for a rehearsal dinner. Putting an outfit together gives us the freedom to unleash our creativity, and as the iconic Diane von Furstenberg says, "style is something each of us already has - all we need to do is find it."
Are you ready to be inspired? Read this post to find something to wear for an upcoming occasion.
Dressed To The Nines
Featured: Trinity Dress
Nothing makes a woman feel more elegant than a beautiful dress. Whether it's a sequin-embellished gown or a slitted maxi dress, there is something suitable for any occasion. Simple, straight to the point, and comfortable, best believe you'll reach for this piece no matter the event.
Featured: Lauren Dress in Black and Red
Dresses are the ultimate flattering clothing piece. There's something for every girl, no matter her height or body shape. When it comes to dressing for special occasions, something to remember is that simple is better. You don't necessarily have to come decked out in something over the top to look polished and put together.
Although simple in terms of design, the Trinity can be worn to any special occasion when paired with heels, a crisp blouse, and the right accessories. Another must-have when it comes to dresses is Lauren. It's sexy and sophisticated, which will have all heads turning when you have this on. Available in black and red, it's the perfect go-to for any event.
Elegance is Brilliance
Featured: Florence White Maxi Dress
Dresses are the perfect seasonal clothing item for those who are too lazy to put a top and bottom together. One-and-done compared to its mini and midi counterparts, the elegant and sophisticated maxi dress is the perfect canvas for any look. 
Featured: The Elegant Maxi Dress in Cream and Black
White represents cleanliness and purity, two qualities that embody this Florence White Maxi Dress. Dainty and chic, this beautiful square-neck dress is perfect for any time of day. You can opt to pair it with a loose-fitted blazer and sneakers during daytime or turn the outfit into something more put-together by switching the blazer for an oversized coat with a pair of two-inch heels.
On the more lounge-y side of things is this flowy Elegant Maxi Dress. Made of light-weight viscose, this breathable and playful outfit is perfect whether you're attending a semi-formal lunch with your boo or your best friend's wedding rehearsal dinner. It can be worn with a pair of stilettos or open-toed heels and in addition to that, your favorite gold or silver jewelry.
It's All About the Monochrome
Featured: Cannes Shirt and Monaco Pants
Women often ask themselves what they should wear first thing in the morning, and putting outfits together can be frustrating because of the elements that come into play. Prints, stripes, solid colors -- there are various elements to consider. If you find yourself at a crossroads when picking outfits, you might want to go for something monochrome instead.
Monochrome pieces are elongating -- perfect for those on the petite side. Exuding cleanliness and simplicity, you don't have to think too hard when putting an outfit together.
Featured: Milan Top and Monaco Pants in Black and Tuscan
Experimentation is key when wearing a monochrome outfit. You can opt to wear something that consists of a solid color or combine pieces from a certain color family. 
An all-white outfit consisting of this semi-sheer Cannes shirt paired with the Monaco pants exemplifies that different shades and fabrics can look beautiful together. Something on the more uniform side is this Milan top and Monaco pants combo. Both options are stunning and look put together, which makes for great choices.
Legs For Days
Featured: Satin Wide Leg Pant
Think of trousers as the dressier and more mature version of your favorite pair of denim jeans. Comfortable and flattering, this clothing piece looks lovely as is or when paired with a dressy top and heels.
Featured: Satin Cropped Pant in Coral and Black
Trousers are available in an array of styles and colors and bring a fun element to any look. Unconstrained compared to their denim counterpart, we love that they can dress up your most casual button-down and look beautiful with an equally dressy blouse.
The Satin Wide Leg Pant is an absolute dream, and is flowy, and soft to touch. Available in black and orange, it goes with an array of colors and can be styled in endless ways. On the other end of the spectrum is the Satin Cropped Pant. Structured and versatile, it gives off a polished look and can also be styled with a printed or solid-colored blouse. Again, styling options are endless and you can wear this in the way you see fit.
 Black Swan Vibes
 
Featured: Oversized Bohemian Tunic
Flattering and comfort are two words that immediately come to mind when I think of something to wear for a special occasion. On days when you want to feel girly without wearing a dress, opt for a flattering blouse. When it comes to blouses, you'll want to wear one that accentuates your best features, looks good when photographed, and feels great overall.
Featured Milan Top in Oatmeal and Sage
Fashion is anything but boring, which is something this Oversized Bohemian Tunic is proof of. Exuding juxtaposition, the relaxed fit balances the swan-like sleeves and is perfect for occasions that are being held indoors and outdoors. 
The Milan Top is a must-have in any woman's wardrobe. Ethically handmade and timeless, this seemingly casual piece can be paired with any kind of fabric and in addition to that, be worn during any occasion. 
Fashion Forward and Conscious
The modern woman will find something that suits her style at Aura, be it a v-neck midi dress, juxtaposed or versatile blouse, or silk trousers. Effortless, timeless, classy, and elegant, each piece is sustainably handcrafted and evokes a mood that will instantly transport its wearer to the most beautiful destinations.