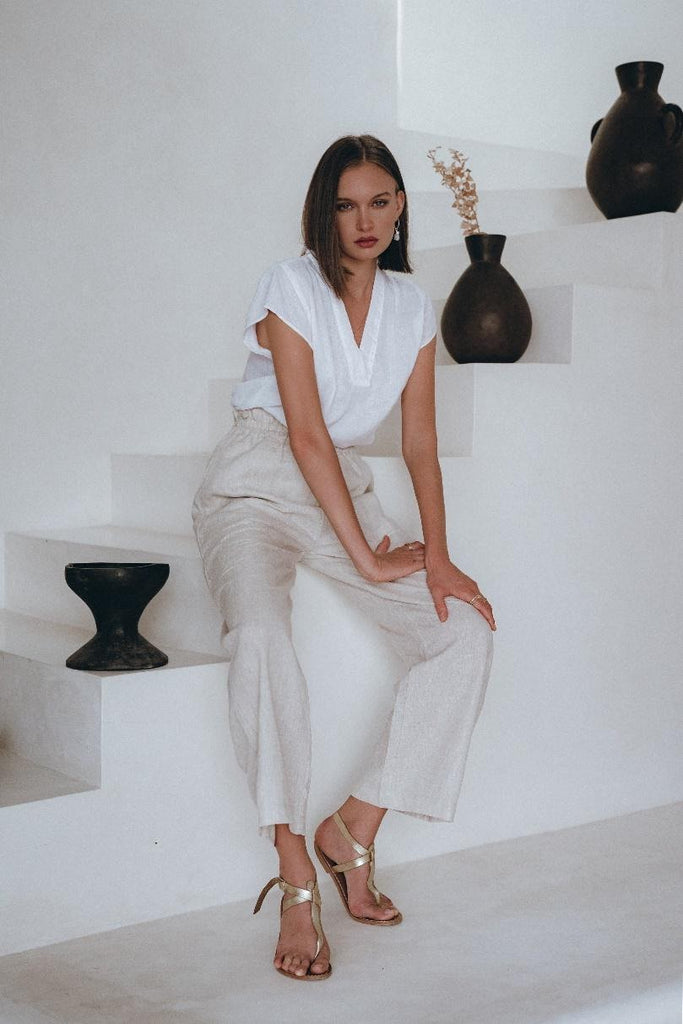 Fashion experts claimed that post-pandemic outfits would lean more towards comfort, easy lounging, and casual. Our daily clothing style nowadays consists of loose and relaxed silhouettes due to being home quarantined for the past year and the emergence of the work-from-home setup.
No doubt, being in a lax style helps us ease out some tension from an already difficult situation that we are in. However, some of us still prefer to get dressed up to maintain that sense of normalcy, especially in the new routine work set up.
One of the challenges of working from home is disengaging ourselves from work. Trying to change into work clothes the same time we would when we're headed to the office and change our work clothes when we return home can bring a positive mental shift to ourselves – drawing boundaries between work and home. The changing of clothes can make us feel that we are not always working.
In this article, we break down some approaches on how to help improve your work-from-home style while sharing some hand-picked pieces from our collection that we feel the best fit to be your new home uniforms.
1. Chic Cozy and Casual
Featured: Loose Linen House Pants in Black and Loose Linen Tank in Terracotta
As we go through unprecedented and stressful times, it has been pretty understandable to dress down. It's okay to have days when we don't want to face difficult circumstances. After all, staying cozy and relax is also very good for our mental health.
For some, choosing relaxed and casual pieces to wear at home can spike some energy and inspire productivity. Our Loose Linen Tank and Loose Line House Pants are the perfect style for these called situations. Resonating the "less is more" philosophy, our Loose Linen Tank in Terracotta offers a simple, no-fuss boxy shape relaxed silhouette. Best paired with our Loose Linen House Pants in Black, this paired wardrobe can best accommodate long work meetings, home clean-ups, or makeovers, and everything in between. Indeed, dressing down has never been this chic, cozy and casual.
Featured: Relaxed Crop Shirt in Black + Tailored Linen Shorts in Nude and Linen Oversized House Set
Dressing down also means getting more time to do and complete other tasks. It's a time saver as compared to getting dressed up fully. It can get you to start early on your busy day with a serene mood to dive in and get into doing a ton of works done.
Here are some pieces from our collection that look professional at the top while staying ultra-comfy at the bottom. Our Linen Oversized House Set is a perfect all-day-work-at-home monochromatic outfit. Its shirt's boxy silhouette complements its slightly baggy bottoms.
But if you prefer to mix and match some colors, here is a more diverse look - pairing our  Relaxed Crop Shirt in Black with our Tailored Linen Shorts in Nude.  Our Relaxed Crop Shirt in Black is not your typical basic; it redefines your staple t-shirt with its shapely silhouette. At the same time, our Tailored Linen Shorts in Nude bring a polished pizzaz look. This juxtaposed business-casual look will keep you feeling productive while working from home.
2. Dress to Success
Featured: Savannah Top and Pants
While we don't discount the convenience of working from home, adjusting to the setup did not come easy. Hence, some folks prefer to dress up to feel that sense of normality still. It gives them this sense of boost and purpose of control when they think they lack hold to the current situation. Dressing up for work means not only a way of expressing our sense of style but also sets the tone for how we want to go on with our day.
Getting decked out in full-on boardroom attire might not be the most practical option nowadays. Still, a versatile outfit that can complement both your professional and non-professional life is spot on.
For example, our Savannah Top and Pants that look perfectly well together give off that flawless combination of fashion and function. These pieces exude the right amount of competence and comfort, exactly what we need in a work-from-home setup.
3. Dress up your Mood
Featured: Mariana Jumpsuit and Linen Romper
One of the best things about fashion is being able to dress up based on our mood. And since working from home does not require specific dress codes, this is the perfect time to experiment and test some of our creative combos. And don't forget to have fun. Try to switch up the looks so you will not have the same look or style every day.
Play mix 'n match depending on your mood. When you're feeling down, usually it's best to dress up to uplift your spirits and get yourself pulled together. Tuning in to your moods when dressing up can help you carry on with this uncertain time. If you'd like a simple yet put-together look, throw on your favorite romper or jumpsuit.
Romper or jumpsuits are generally regarded as garments of convenience, as they are effortless to wear. They are more of a put-on and remove garment than an ensemble outfit.
Our Linen Romper and Mariana Jumpsuit are perfect for both busy and slow days or high and low moods. Both give maximum comfort and movability while keeping that effortless put-together look.
4. Play with Colors
Featured: French Rose Mini Dress and Apricot Shirt Dress
We all know that what we wear is a message to others and ourselves about who we are. But the association between clothes and perception runs more profound than that. What we wear can directly influence our thoughts, moods, and behaviors.
And colors play a huge part in making a difference in how we feel every day. Rocking warm tones like red, orange, and yellow can help you pump up your adrenaline and get you going. In contrast, cooler hues can bring you super relaxing and calming moods.
Our French Rose Mini Dress will make you feel light and high-spirited any time of the day. Fall in love with its feminine and chic style designed with tortoise buttons, romantic balloon sleeves, elastic cuffs, and waistline. On the other hand, our Apricot Shirt Dress gives off happiness, a hopeful and inspiring feeling. It is the ultimate essential for your everyday wardrobe, taking your home uniform to the next level with minimal effort. 
It is important to note that what we wear doesn't define our value as human beings, but it is essential to understand how our clothes impact our thoughts, moods, and behaviors. Check out our latest pieces here.