Exceptional Versatility: the Closet Staples You Need from Morning Coffee Runs to Evening Cocktail Parties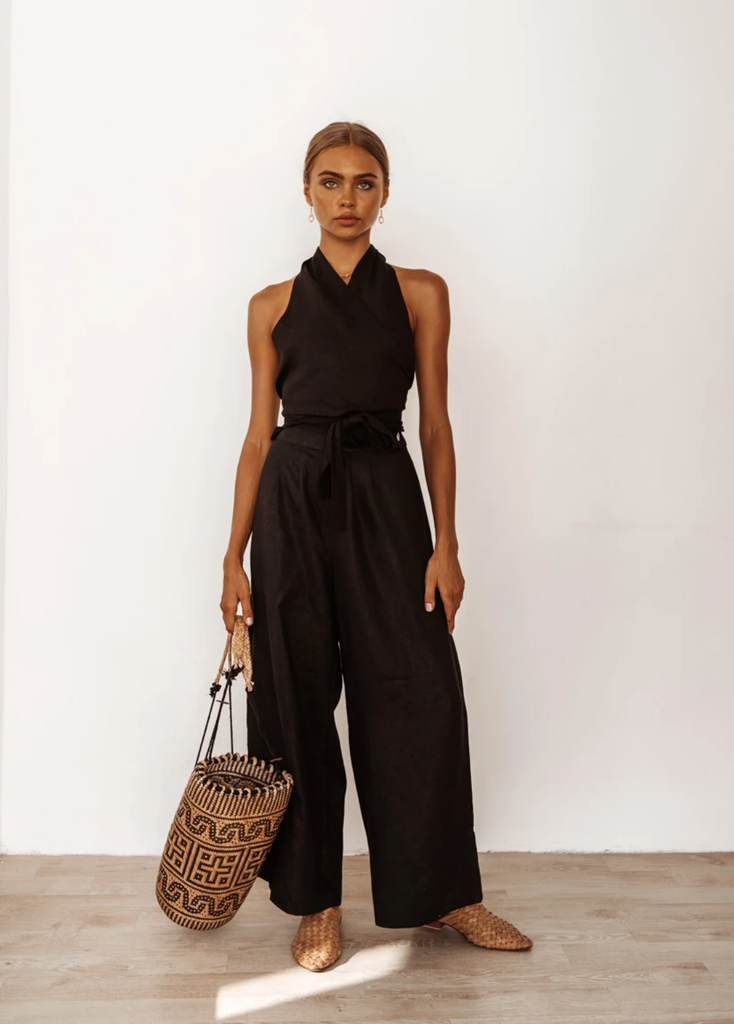 Thinking of what to wear can be daunting at times, and even worse, you have to think of two looks from morning to evening. Your outfit of the day should be apt for the daytime and night— it's a great way to ensure you're well-dressed no matter what comes up in your agenda. With that said, one look should be able to serve you impeccable style relevant at all times in the day. 
One of the great parts of building a versatile closet is removing the internal debate you have with yourself on what you should wear. That would be thanks to the pieces you acquire that are dependable, effortless, and neutral. The key elements to look out for are timelessness, material quality, proper fit, and durability. 
We made sure to offer styles that do just that with every piece designed with you in mind— a multifaceted and powerful woman. We create our pieces sustainably with eco-friendly materials, hand-crafted by Balinese artisans. It's the fashion you love but with a conscience. And, of course, we have placed high standards for each piece's quality. After all, they will be the key items in your closet rotation. 
We're highlighting six versatile pieces worth trying for a style that can transition from day to evening. Think neutral tones, flattering silhouettes, and clothing you can dress up or down with the right accessories. So go ahead and enjoy easy dressing on a daily basis— just as it should be.
1. 

The Little Black Dress
Featured: The Willow Mini Dress
We're starting things off with a classic, a little black dress known as the LBD to those who love to dress classically. It's your closet staple that truly stands the test of time. The Willow Mini Dress will be a reliable piece in your wardrobe with its understated elegance. It's ideal for almost every setting and flattering for any body type. 
Just like many of our designs, the Willow makes use of linen, so you'll keep cool under the heat of the sun. And its off-shoulder pattern exudes sophistication and classic style, great for a night of socializing. Embellish this look with gold or silver jewelry to elevate your presence.
2. 

Classic Button-Down Shirt
 Featured: The Cannes Shirt
Building a versatile wardrobe calls for a sheer button-down. This soft, lightweight piece is of 100 percent cotton sari featuring mother of pearl button details. The material of what you wear is just as essential as its design. Quality fabrics will ensure that your pieces stay in your closet for the long run— trust us; you would want your wardrobe to contain versatile elements for life.
Wear the Cannes Shirt loosely with trousers, tight skirts, jeans, or dressy shorts. What adds to this piece's versatility is the many ways you can wear it: buttoned-up, left open with a tub or cami top worn under, or tied at the hem for a casual-chic approach. Also, you can use it as a bathing suit cover-up - an added plus!
3. 

Solid-Colored Jumpsuit
Featured: Linen Jumpsuit
The black Linen Jumpsuit is a blank canvas to amplify your style. Feel free to wear it as it is with your favorite sandals or slides for a minimalist look. For a more diversified outfit, add a denim or leather jacket for added texture. This relaxed linen piece is your new go-to for a look that is relaxed yet refined. 
A highlight of the linen material is its breathability. After all, you would want to show up to your evening plans as if you were freshly dressed. It's helpful to know that linen and cotton are vital materials to look out for when building a versatile wardrobe. Take it from us— chic outfits can be and should be comfortable.
4. Neural-Toned Pants
Featured: Savannah Pants
A neutral color palette is your best friend for morning to night dressing. If you like printed tops, a natural beige bottom like the Savannah Pant can compliment it nicely. In contrast, if you lean towards solid-colored tops, it makes for a muted combination. A significant part of neutral styles of any design is the freedom to pair almost anything to them. So, whether you opt for statement outfits or understated ones, Savanna Pants will be a valuable item in your wardrobe rotation.
 In addition, these are trousers that won't leave you feeling constricted. The drawstring waistline of this piece provides you with added comfort. You wouldn't feel the need to change to a more comfortable attire for the next half of the day. You'll feel at ease from your breakfast meeting to your dinner with friends.
5. 

Halter Top 
Featured: Milan Top
A noteworthy trend derived from the '60s is the halter top. It's definitely a classic given the sophistication the style can provide even in present times. This flattering design will urge you to utilize it repeatedly, which is why we ensured its durability just like all our other offerings. 
An added design element to this halter piece is its wrap feature. It ties around your waist for a flattering silhouette. So go on and exude modernly classic style— formulate a look with the Milan Top with your favorite trousers or skirt, and be ready for anything the day may bring.
6. 

A Solid-Colored Top
Featured: Roma Top
Although prints can be fun, solid-colored pieces make for more utility. It's easy to pair with its complementary colors or with the details with the same shade. If you're not a fan of light color,  this shade of olive green is a great alternative. It suits all skin tones and is still neutral enough for a look transition from day to night. 
The Roma Top features a flattering square neckline and thick straps for a sleeveless piece that still looks professional for work commitments. For evening events, it's a great piece to socialize in effortlessly. As it is slightly cropped, it's great to pair with any of your high-waisted bottoms— from pants to skirts. 
Discover more versatile pieces here.