How to Build a Capsule Wardrobe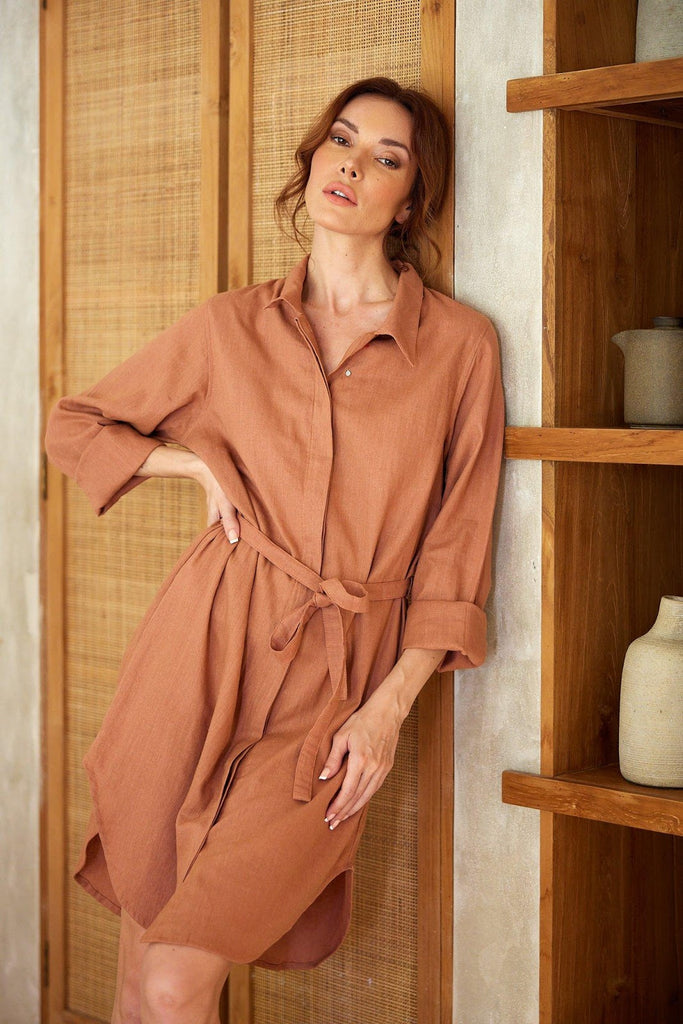 Have you ever found yourself surrounded by a pile of your clothes and thinking: "Why do I have so many clothes and still feel like I have nothing to wear?"
Don't worry; we're not judging you. But if you're overdue for a closet overhaul, building a capsule wardrobe may just have come at a perfect time. Besides minimizing your clothing options down to the bare essentials and a little more, you'll finally get to maximize your clothes without having to fuss about your outfits for the day. Think of it as a fully edited wardrobe that you can easily dress up or down depending on the occasion, giving you more time to think about other important things.
Here are some ways to start creating a capsule wardrobe you'll love:
1. Sort out what you have.
Featured: The Daisy Wrap Dress is a piece that goes the extra mile.
First and foremost, evaluating your inventory is crucial. Begin the process with a closet clean-up. Decide what to keep, store, or give away, and you'll have a clearer idea of the items you often reach out for and which you can do without. At this point, quality is better than quantity, so don't be afraid to splurge a little more for better-made pieces you can wear for longer.
Keep in mind that if you haven't worn something in the last 18 months, chances are you won't be wearing that soon. And yes, don't keep clothes that you'll hope to fit in soon or justify that 'fashion comes back'—while it does, there will be changes in silhouettes and construction that will leave you looking dated. 
The more you let go, the better you'll feel.
2. Know your basics.
Basics pertain to the fashion building blocks of your entire look—you can wear them with one another and maybe throw on some extras to keep things interesting, but know that these items serve as your blank canvases or the starting point in establishing what you wear.
Once you have these essentials, you're ready to go.
The Elegant Maxi Dress in Black and Olive
To give you an idea, here is a list of timeless pieces that deserve long-term real estate in your closet and will never go out of style, no matter the season. You can opt for long-sleeved or short-sleeved versions depending on the climate and weather, of course:
Crisp white button-down shirt

T-shirt

Turtleneck

A sheer, light blouse

Tank top

A little black and white dress (yes, both!)

A pencil skirt or A-line skirt

Cropped trousers

Go-to denim jeans

Maxi Dress

Lightweight jackets such as a blazer or cardigan

Denim Jacket

Black Leggings

White sneakers

Ballet flats

Black strappy stilettos

Nude pumps

Flat sandals
Featured: The Cannes Shirt merges that sheer blouse with a buttoned-down silhouette.
3. Decide on your preferred color palette.
When it comes to choosing colors, your no-fail palette should consist of neutrals like black, white, and nude, or tan. But don't be afraid to inject other vibrant hues or prints that complement these fundamental hues, as this makes your outfit more exciting. Neutrals allow you to mix and match them together without thinking twice, making whatever you put on look put together.
Featured: Satin cropped pant
4. Assess the places you frequent and activities you do most.
Establishing your daily routine helps you know what clothes you need to go about your day. What you wear for work, everyday errands, as well as weekends are the pieces you'll always reach out for. So supplementing those basics with interesting extras based on that observation will not only fill that capsule out for you but also ensures that you get the most of what you wear.
Featured: The Sophia shirt dress can double up as a dress, long top and is also perfect as a cover-up for that tropical getaway!
5. Don't be afraid to add some wild card pieces.
Having a capsule wardrobe doesn't have to be boring! Feel free to integrate a handful of  pieces that help personalize and elevate your total look. Some enjoy injecting complementing prints to go with the blacks, whites, and nude shades, which adds an exciting layer to your ensemble. It's always good to have a little fun with your outfit, too!
Featured: The Fleur Mini Wrap Dress and Fleur Midi Dress call for easy wear that goes from work to weekend
6. Accessories are okay, just don't overdo it.
Curate the accessories you wear, which generally stop between two and four pieces. Jewelry, scarves, sunglasses, hats, and purses are great ways to set yourself apart from the crowd, but it's good to be mindful about piling these on. Remember to look at the mirror, and if you feel like you might have overdone it, you most probably have. 
Stick to the classics, so you are able to maximize them no matter what you wear.
7. Create seasonal capsules
Because working with capsule wardrobes saves so much time and effort, you can also make seasonal edits, especially if you live somewhere with all four seasons throughout the year. That way, you can easily store your off-season pieces which also reduces clutter and confusion. 
The Linen Midi dress follows a maxi dress silhouette that transcends from spring to summer if paired with the appropriate cover-up and shoes.
Remember that trends are fleeting and will eventually make you look dated; they might be good to have on hand to freshen up your look, but it's always better to stick to the classics—there's always a way to change things up, it's all a matter of combining the right elements to make every outfit your own.
So are you already taking mental notes of what you want your capsule wardrobe to have? At Aura, you'll have plenty of options to choose from which you can wear almost anywhere, anytime—not only are they well-made and sustainable, each piece is developed for the mindset of customers who are looking for go-to, timeless clothing pieces that work with their current closet staples and can be worn for the days and years to come.