The Fashion Girl's 2022 Summer Bucket List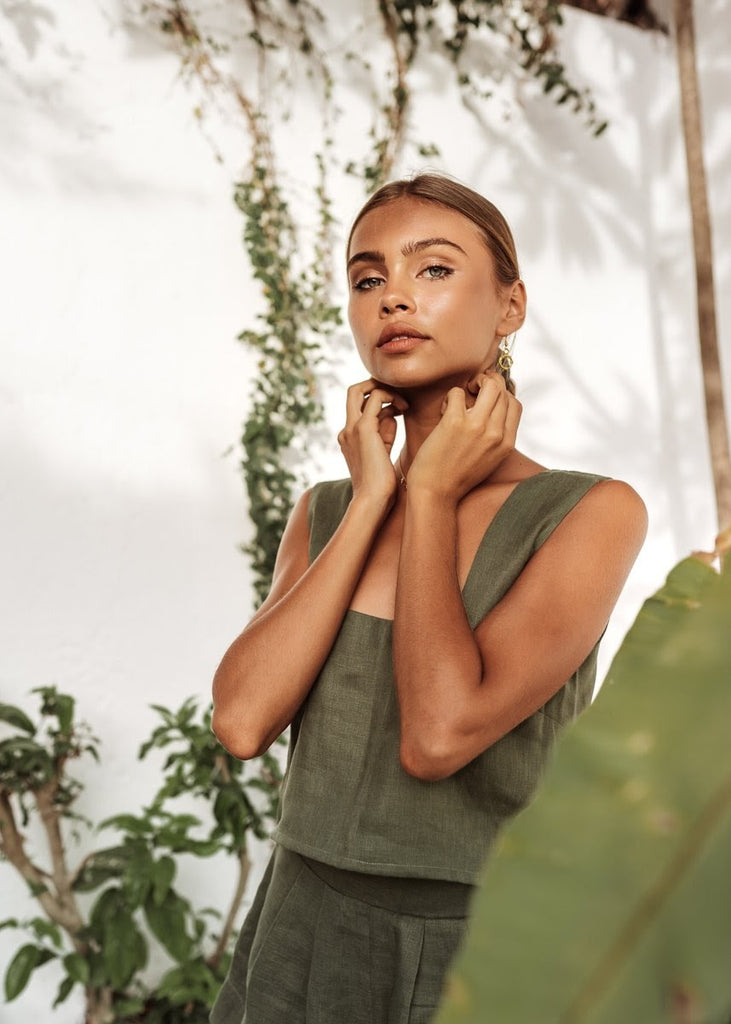 The season we've all been waiting for is finally here. Once again, birds are chirping, skies are clear and azure, and the sun is all shades of gold. As the days grow longer and brighter, the stronger the urge we get to spend hours exploring, adventuring, and luxuriating under the sun. 
How to pay appropriate homage to the most vibrant months of the year? Whether you're opting for the return of the #hotgirlsummer, planning an exotic getaway, or are arranging for something more lowkey, here are 7 bucket list ideas you won't want to miss.
1. Learn How to Make a Stunning Floral Arrangement 
Featured: Linen Midi Dress, Linen Mini Dress
Fashion is not just about what's in your wardrobe—it extends to your surroundings too. Bring the colors of nature into your space by learning to create chic floral arrangements. Although classy staples like white roses, dried lavender, or blush tulips are always beautiful, experiment with more unique blooms like tumbling orchids, peonies, and heliconias. Fresh flowers to your home are what jewelry is to your outfit—it adds a touch of elegance and detail. 
A breezy, feminine dress like the Linen Midi Dress or Linen Mini Dress would be perfect for a relaxed day at the flower market or arranging blooms at home by yourself or with equally stylish friends. It's easy to dress up or dress down according to your whim.
2. Plan a Local Escape 
Featured: Linen Romper; Bella Romper
You don't have to travel so far to have a good time. Be creative! Arrange to follow a wine trail with your best set or venture out to the countryside nearest you to search for the best maple syrup around. There are so many boutique hotels and resorts offering wellness retreats and sustainable lifestyle vacations. You'll be surprised at how many exciting activities you can discover—right in your own home state!
Romp to your heart's content in our Linen Romper. Featuring a low V neckline, oversized sleeves, and A-line shorts, you'll have maximum movability without sacrificing style. If you're looking for something more utilitarian (i.e. more pockets!), our Bella Romper would be a great addition to your outdoor wear.
3. Own a trend you've never tried before
Featured: Milan Top; Satin Cropped Pants
Eleanor Roosevelt once said: "Do one thing every day that scares you." Facing your fears can be as big as going skydiving or changing your career—or as simple as trying a new hairstyle or a particularly bright shade of lipstick. Whatever it is you've been hemming and hawing at testing out, summer is the time to do it! Remember that everything is temporary anyway. You can always change your hair color back to brown from blonde or toss out that neon violet lip tint. The idea here is to be open to new things in whatever shape or form they come into your life.
Nothing says "I'm ready for anything." like a backless top. Pair with a chic cropped pant for an elevated city girl charm.
4. Create a Signature Cocktail  
Featured: Striped Midi Dress; Aida Midi Dress
Every hostess must perfect the art of making a signature drink. Whether you decide to make a classic Aperol Spritz, infuse mint or lavender into daiquiris, experiment with caipirinhas, or stick to a friendly mimosa, make sure you add a touch that's unmistakably you. Then call the gang over for afternoon cocktails! 
Lounging in or heading out, this versatile black and white Striped Midi Dress features a V neckline and a side slit that will look sultry and flattering on any body type. For a touch of dainty, the Aida Midi Dress' hand-embroidered straps and delicate pleats exudes elegant charm.   
5. Master a New Language
Featured: Monaco Pants and Roma Top in Oatmeal
If Stanley Tucci's Searching for Italy has gotten you daydreaming about buying lemons in the Amalfi Coast, indulge your fancy by actually learning the language. Or perhaps you want to learn Japanese so you can talk to the locals next time you find yourself in Tokyo. Mastering a new language is always a worthy endeavor as it not only expands your mind but allows you to communicate with people from different cultures. 
Comfort is key whether you're jet-setting or walking to the nearest bookstore for a travel book. Our Monaco Pants will have you emanating the elegant worldliness of the small French Riverian city-state. Pair with the Roma Top for monochromatic sophistication.
6. Host an Epic Dinner Party
Featured: Lauren Midi Dress in Red
What's summer without an outdoor dinner party to remember? Hang lanterns on tree branches, sprinkle flower petals on the ground, plan a three-course menu, and pop some wine and bubbly. If you want to take it up a notch, you can even have your event catered by a chef. Throw a bash everyone will be talking about for seasons to come.   
Look every inch the hostess with the mostest in the Lauren midi dress. Made carefully by hand, this stunning red dress blends the delicacy of old-world pin-tucked and soft-pleated paneled waist with a sexy modern deep-V neckline and thigh-high slit.
7. Volunteer at a Charity
Featured: The Botanical Jumpsuit
Lastly, give yourself the gift of true fulfillment by volunteering at or donating to a charity. Find a cause that's close to your heart, be it children's welfare, environmental conservation, animal protection, or medical research. Whatever it is, find out what you can do to further the cause you're fighting for.  
For no-frills, all-purpose attire, a comfortable jumpsuit would be a practical addition to your wardrobe. Wear with sandals or sneakers for a laidback look, or dress it up with a pair of wedges or strappy heels.
Something New This Season
Long summer days are conducive to doing something diverting and new. So put on your best outfit, greet the sun with vitality and gratitude, and make the most of the festive season. 
If you want more style inspiration for an endless summer vibe, discover our
New Arrivals
. Handmade with love and sewn from sustainably sourced materials by skilled Balinese artisans, every piece tells a unique story of feminine courage and spirit. Shop Aura for one-of-a-kind, beautiful clothing that you'll treasure season after season.